Dogwood Trail Celebration
Paducah Dogwood Trail Map & Events Guide
The trail covers approximately eight miles highlighting dogwoods and flowering garden areas. While the trees are in bloom (mid-April, depending on the blooming of the Dogwoods), Dogwood Trail signs are strategically located at each turn in the Trail. Download the 2023 trail map or follow the signs for a self-guided springtime tour! 
---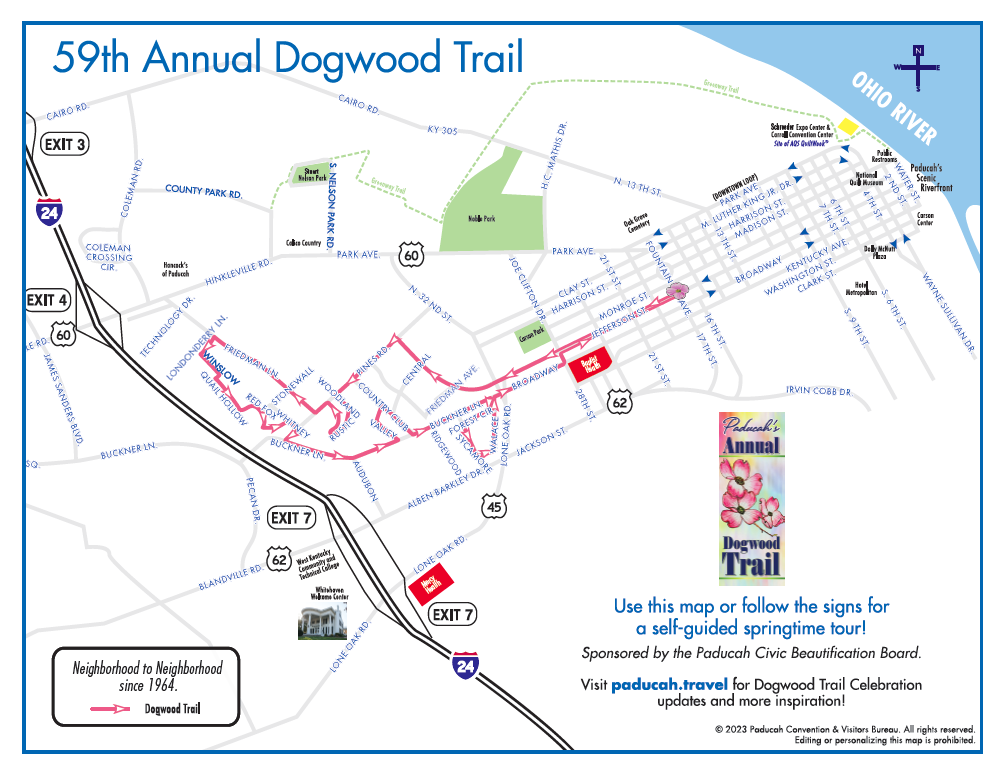 Dogwood Trail Event Updates 
DOGWOOD TRAIL - April 10-16, 2023: Sponsored by the Paducah Civic Beautification Board, this traditional celebration of spring will reflect the hope and perseverance of our community. The Trail is a beautiful drive by day or night, when many homeowners spotlight their trees. The trail dates are projected by the Paducah Civic Beautification Board (CBB), but Mother Nature determines peak bloom!

DOGWOOD TRAIL BICYCLE TOUR - April 10, 2023: The annual group ride, coordinated by BikeWorld, Bikes & Fitness, returns. Starting and ending at BikeWorld, the trail is marked to assist with wayfinding.

DOGWOOD TRAIL TROLLEY TOUR - April 13, 2023: On Thursday, April 13 from 2 until 4 p.m. the Paducah Area Transit System (PATS) Trolley will provide free tours of the Dogwood Trail. Donations are accepted. This is a first come event with the trolley departing from 850 Harrison Street. A Paducah Ambassador will be on the Trolley providing historical narrative of the Dogwood Trail.
About Paducah's Dogwood Trail
The dogwood trail in Paducah began in April 1964 when the Civic Beautification Board started the tradition of touring Paducah in bloom. Inspired by the beauty of Knoxville, Tennessee's dogwoods, the trail is now a driving tour traversing Historic Downtown, Lower Town Arts District and other residential neighborhoods. The tour showcases Dogwood, Japanese Maple, Red Bud and Weeping Cherry trees as well as blooming garden areas and other flowering species.
Birds & Blooms included Paducah Dogwood Trail among 8 Must-See Flower Festivals!