Whether your family prefers fun in the sun, hands-on history lessons or art play, it's easy to build a Paducah itinerary that all ages will enjoy! Follow this guide to kid-friendly activities and fun things to do in Paducah, Kentucky with your family this summer.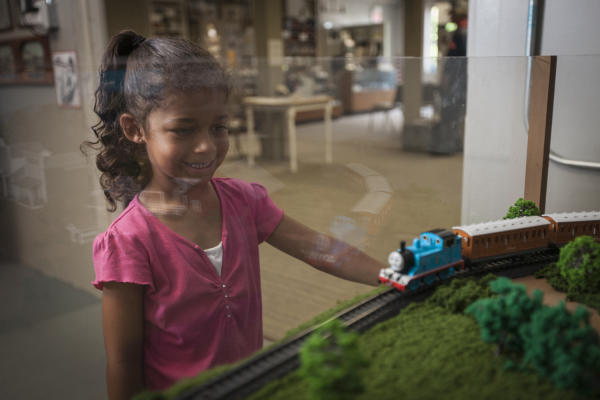 Paducah welcomes families for history, art and outdoor recreation! | Paducah Railroad Museum
Top Family-Friendly Attractions
It's all fun and games no matter the weather at indoor attractions like the new Atomic City Family Fun Center featuring hi-performance electric go-karts and an arcade arena, Talon Falls Escape Room which offers two family-friendly adventures and Vertical Jump Park. Downtown attractions, Paducah Railroad Museum and Inland Waterways Museum, engage younger visitors with high-tech locomotive and boat simulators and interactive exhibits that highlight Paducah's legacy as a transportation hub.
A short, scenic drive connects you to more things to do near Paducah including Land Between the Lakes, Talon Falls Adventure Park and Kentucky Shores Family Fun Center. Tee up at Maggie's Jungle Golf which pairs a petting zoo with mini golf!
MORE INSPIRATION: Family Fun in Paducah  |  Scenic Drives & Day Trips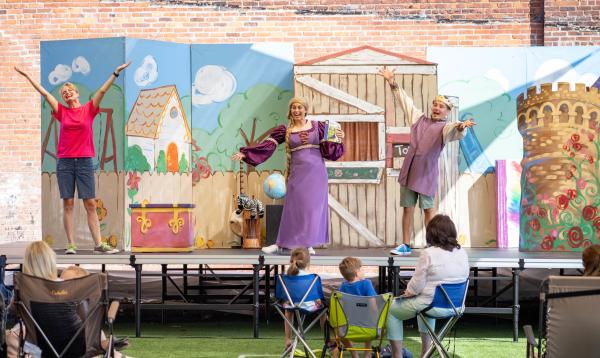 Enjoy favorite family-friendly events and performances. | Alex Hilkey, Market House Theatre
Activities & Summer Events for Families
Take your family out to the ballgame to watch the Paducah Chiefs at historic Brooks Stadium during the months of June and July. Attend an outdoor Play Time performance at Market House Theatre. Sing along to the sounds of summer with Street Beats at the downtown gazebo where you can embark on a horsedrawn carriage ride with John's Pass Carriage Service.
Taste the flavors of the season at the Paducah Homegrown Farmers' Market and visit the Paducah.travel Calendar of Events for more upcoming family-friendly events in Paducah!
MORE INSPIRATION: Summer in Paducah

Make art and memories together in Paducah. | Rachel Gerke Photography, Smudge Paducah
Hands-On Learning & Family Activities
Local creative studios cater to artists of all ages, inviting imaginative minds to run wild in our UNESCO Creative City. MAKE is set up for open studio time and fully stocked with DIY art supplies and activity kits, and Smudge offers art play -- self-guided creative exploration. Adults receive free admission to Smudge with a child and are encouraged to join in and create while supervising.
Participate in youth workshops and activities at Paducah's cultural institutions from story times at McCracken County Public Library to summer camps like Quilt Camp at the National Quilt Museum and Broadway Boot Camp at The Carson Center.
MORE INSPIRATION: Workshops & Creative Experiences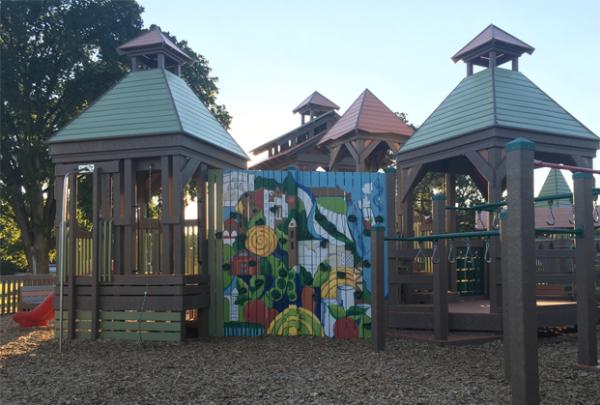 Find fresh air and space to play at Paducah parks. | Brockenborough Rotary Health Park
Kid-Friendly Things to Do Outdoors
Seeking a safe and engaging place to play outside? Take your pick of playground or sprayground at the Brockenborough Rotary Health Park or Coleman Park, two municipal parks equipped with both amenities. Spend the afternoon at Noble Park to explore multiple playground areas and an interactive new music garden staged among many other recreational activities.
Follow the Greenway Trail on foot or by bike to the Paducah Riverfront, a perfect spot for a picnic with the family pack from Knoth's Bar-B-Que. Catch other tours and trails including the Paducah Mural Art Experience and Historic Paducah Audio Tour that connect local landmarks around town.
MORE INSPIRATION: Get Outside Guide  |  Recreation & Outdoors
---
SHARE YOUR FAMILY'S FUN IN #PADUCAHCREATIVECITY!
Make a reservation at one of Paducah's many hotels with family-friendly amenities. Bookmark our hub for local maps and guides to navigate local restaurants, attractions and landmarks with ease using your mobile device.