Natural and urban landscapes across Paducah, Kentucky invite you to spend the day (or longer) in the great outdoors! This guide features activities to draw your family outside for learning and recreation, to the best spots for flavorful food and drink or a scenic stay.
Walk, run, bike, fish or picnic at Bob Noble Park, Paducah's largest city park.
Open-Air Recreation in Paducah
With dozens of parks and outdoor activities, you'll find ample opportunity for outdoor recreation in Paducah. These natural areas offer varying amenities as well as tree-covered green spaces for respite and picnic shelters for gathering. 
Bob Noble Park, the city's largest, presents miles of accessible walking paths and a connection to the greater Greenway Trail. The idyllic Lake Montgomery is the focal point and part of Kentucky's family-friendly Fishing in Neighborhoods program.
Venture to access points for river fishing and cruising, the Ohio River Boat Launch and award-winning City of Paducah Transient Boat Dock. Tee up at Midtown Golf, Disc Golf & Footgolf Course or Paxton Park Golf Course. Or head to the Paducah Dog Park at Stuart Nelson Park for dog-friendly spaces for small and large breeds.
More Inspiration: How to Stay Active in Paducah  |  Pet-Friendly Paducah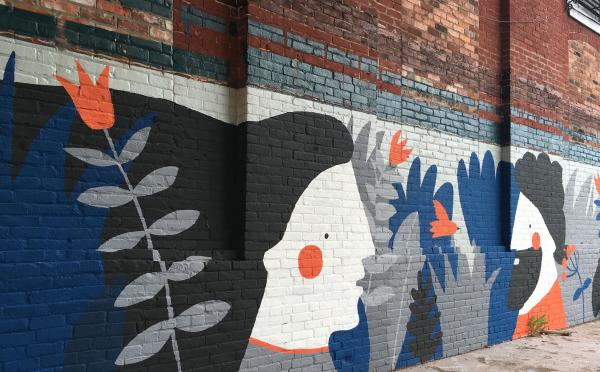 Find murals, sculptures and art outdoors while social distancing in Paducah.
Art Al Fresco: Murals & More
Art is part of the atmosphere in Paducah, and it extends outdoors with the presence of diverse works in public places.
Begin at the riverfront where 50+ "Wall to Wall" Murals by renowned muralist Robert Dafford adorn the floodwall. Stop at Art A La Cart to engage with local artists demonstrating and selling their wares at the gazebo as weather permits. Follow the Paducah Mural Art Experience for insta-worthy wing murals at The Johnson Bar and MAKE Paducah, painted replicas of world-famous quilts and more.
Wander into the Lower Town Arts District where colorfully painted fire plugs mark nearly every intersection. In this working artist neighborhood, you'll also find large-scale sculptures at Etcetera Coffeehouse and Terra Cottage Ceramics. In Midtown, marvel at Wacinton, a Peter Toth carving that is part of the Trail of Whispering Giants. Also at Noble Park, you'll find painted utility boxes, a recent community project to brighten the pathways and walking trails surrounding Lake Montgomery.
More Inspiration: Color Paducah "Wall to Wall" Murals  |  Paducah Arts & Culture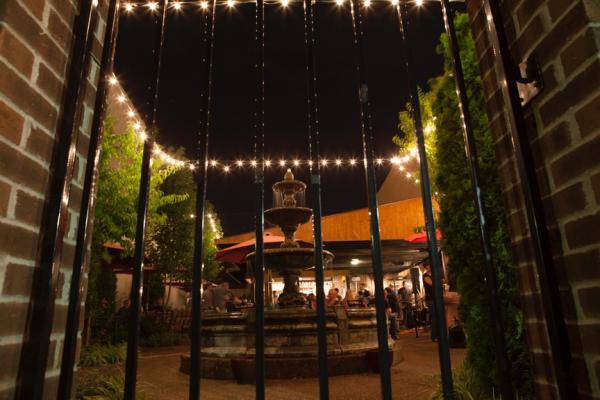 Outdoor seating awaits at Paducah restaurants, bars and breweries.
Where to Dine & Drink Outdoors
Fresh air meets fresh, local fare with outdoor seating in cozy courtyards and patios in Paducah. For those looking to enjoy flavorful food and drink outdoors, many local restaurants have recently increased outdoor capacity including expanded sidewalk seating in Historic Downtown on Market House Square.
Savor dinner-then-drinks or drinks-then-dinner in the courtyards of Paducah Axe or Max's Brick Oven. Sip sweet wines with views of the vineyard at Purple Toad Winery or craft beer on the patio Dry Ground Brewing Company. Choose Kitchens Cafe for creative cuisine on the campus of Paducah School of Art & Design or the Paducah Homegrown Farmers' Market for local produce and favorite food vendors.
Drive in for time-honored dining experiences at Parker's Drive-In & 50's Diner in Lone Oak or, on the Southside of Paducah, Harned's Drive-In for western Kentucky BBQ and Bob's Drive-In for a famous Fiesta Burger. For casual cuisine with covered outdoor seating, try Troutt Old Time General Store or Midtown Market, both of which curate ready-made deli items that are perfect for picnics at any of the parks listed above.
More Inspiration: Outdoor Dining in Paducah  |  Craft Beer, Wine & Spirits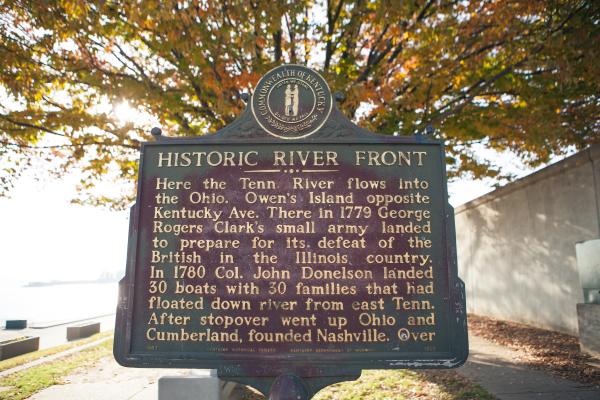 Walking and driving tours invite you to uncover authentic local stories.
Scenic Tours & Self-Guided Strolls
Scenery and history collide in Paducah's walkable historic neighborhoods.
Meander monuments and outdoor landmarks on your own or on a guided tour with John's Pass Carriage Service in an open-air horse-drawn carriage. The riverfront is a fitting starting point, steeped in history and rich in space for reflection. Follow the Historic Paducah Audio Tour to explore architectural treasures on foot. 
Combine walking and driving with self-guided regional and national historic trails throughout the region. The Eastern Legacy of the Lewis & Clark National Historic Trail, Trail of Tears National Historic Trail Water Route and U.S. Grant Trail intersect in Paducah. Explore myriad Kentucky Historical Markers or the Quilt Block Trail throughout McCracken County.
More Inspiration: Paducah Running Routes & Trails  |  Paducah & Beyond with the National Park Nerd
Places to Camp, Stay & Gather
Nature lovers can enjoy scenic places to stay with comforting amenities and close connections to the outdoors.
Area campgrounds and RV parks bear an outstanding reputation for hospitality. Check in at Duck Creek Campground and Fern Lake Campground, both located in Paducah within close proximity to area attractions, parks and more family fun.
Local hotels and unique lodging options play up outdoor features with gathering spaces and more amenities for those looking for family-friendly or reunion-ready options. Many group-friendly hotels offer suites or meeting space to accommodate extended family gatherings. For more ideas and local planning assistance, preview our Reunion Planner's Guide to Paducah!
More inspiration: RV Parks & Campgrounds  |  Paducah Hotels/Motels
Recreate Responsibly
While enjoying time outdoors, there are actions that you can take to protect yourself, the community and the public spaces:
Plan ahead to bring essentials along as some facilities may be limited.
Call ahead and visit websites to confirm plans as reopening continues.
Avoid crowds and continue to practice social distancing.
Protect local outdoor spaces and communities by respecting wildlife and disposing of waste properly.
---
Show us how you enjoy the great outdoors in #PaducahCreativeCity!