Public lands, including national parks, trails, forests, monuments and recreation areas, are among America's most iconic and cherished places. Follow local outdoor enthusiast and self-proclaimed "National Park Nerd," Lucas Bremer, as he shares some of the best in and around Paducah, Kentucky!

Natural wonders set the stage for cultural wandering in Paducah and beyond. | Lewis & Clark Tribute at the National Quilt Museum
My family tree can be traced through the Land Between the Lakes and the Shawnee National Forest regions. Now a proud Paducah resident, I cannot picture anywhere else being home for me or my family.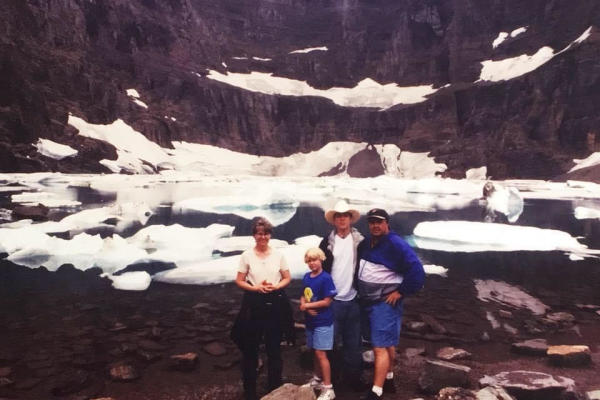 The author's family on a childhood visit to Iceberg Lake, Glacier National Park - Montana
Since early childhood, my mother and father would load up the van, and we would spend three or four weeks at a time exploring National and State Park sites across the country. I have been obsessed ever since. I have traveled to well over 150 National Park Sites and countless other State Parks, Historical Sites and Preserves.
Lewis & Clark National Historic Trail
As a kid traveling around the country, I can remember all the stops related to the Lewis and Clark Expedition. I couldn't imagine what life would have been like when there were no roads and countless hazards. The sheer scale of this adventure always intrigued me.
So much history related to the Corps of Discovery and William Clark resides in Paducah. Trace this history on the Paducah riverfront through markers and plaques connecting Paducah to the Lewis and Clark National Historic Trail. Then make your way to the other side of the floodwall to see the immaculate Paducah "Wall to Wall" Murals dedicated to the explorers.
The Lewis & Clark National Historic Trail follows the historic routes of the Lewis and Clark Expedition from Pennsylvania to Oregon. In 2019, the trail was extended to encompass the Eastern Legacy, a 1,200-mile segment which includes the Ohio River and Paducah.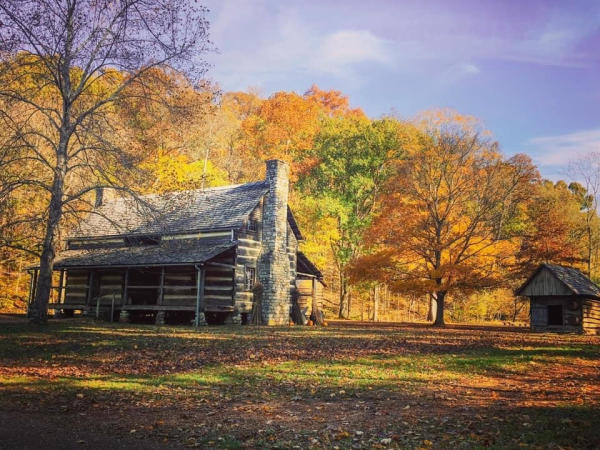 The 1850s Homestead, Land Between the Lakes National Recreation Area - Kentucky/Tennessee
Land Between the Lakes National Recreation Area
Western Kentucky is home to one of the largest undeveloped forests in the eastern United States. At over 170,000 acres, Land Between the Lakes makes for an exciting excursion for anyone.
A great day trip would be to pack a cooler and have a picnic outside of a working the Homeplace, an 1850's working farm and living history museum. Then head up the Woodlands Trace National Scenic Byway to see wild things roam free on the Elk and Bison Prairie. Something more adventurous in your cards? Rent or bring a kayak and explore the Land Between the Lakes Regional Water Trails or mountain bike the Canal Loop Trail.
The North Welcome Center at Land Between the Lakes is located approximately 30 minutes southeast of Paducah.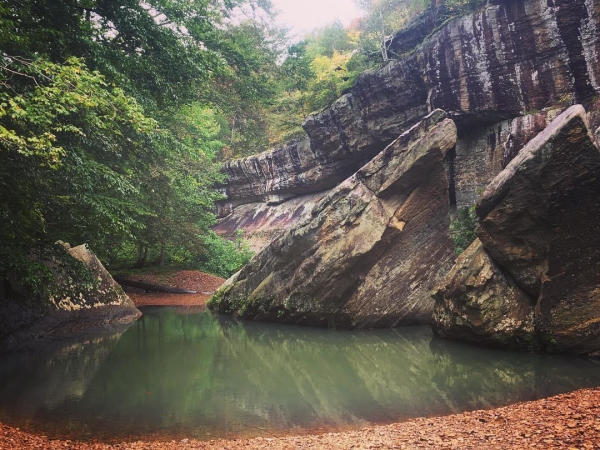 The Devil's Back Bone, Shawnee National Forest - Illinois
Shawnee National Forest
The Shawnee National Forest is a vast area of wilderness right in our backyard that in places resembles more Appalachia than Illinois. From hiking at Garden of the Gods or Little Grand Canyon to splashing in Pound's Hollow or Lake Glendale, this expansive area has recreation for everyone.
History also abounds here. Relics linger, from the Trail of Tears to General John A. Logan, the Lincoln-Douglas Debates and the Civilian Conservation Corps, that remind us how the region was also shaped by man.
Shawnee National Forest spans more than 280,000 acres in southern Illinois, north of Paducah.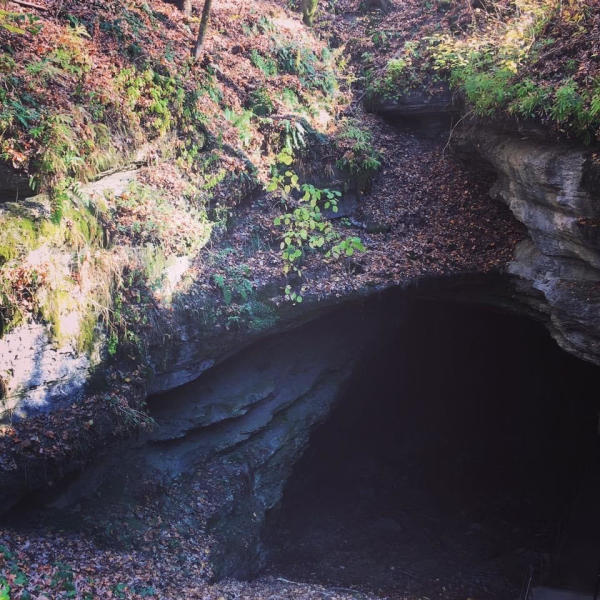 Historic Entrance, Mammoth Cave National Park - Kentucky
Mammoth Cave National Park
Many people may not realize how close Paducah is to the largest cave system on earth. There are over 400 miles of surveyed passageways in Mammoth Cave National Park. It is also a UNESCO World Heritage Site and an International Biosphere Preserve.
A classic adventure at Mammoth Cave involves walking down the steps into the Historical Entrance and entering into the massive "rooms" that gave this cave its name. There are dozens of tours throughout the year to many different sections of the cave, but do make reservations ahead of time as they frequently sell out. The Green River intersects the park and for some above ground exploration rent a canoe and head on one of the many commercial trips floating the Green.
Mammoth Cave National Park is approximately 160 miles from Paducah, near Bowling Green and Cave City, Kentucky.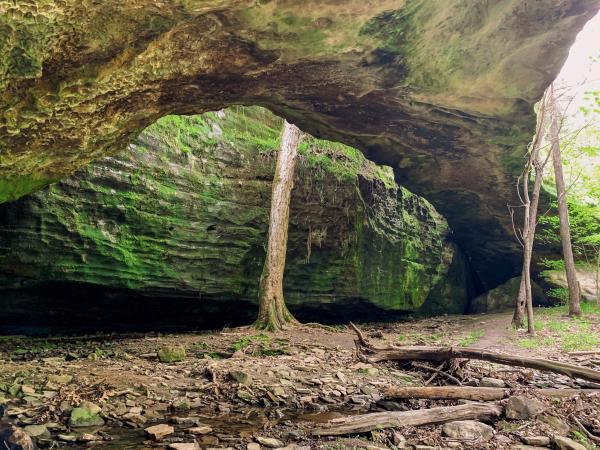 Mantle Rock, Trail of Tears National Historic Trail - Kentucky
Trail of Tears National Historic Trail
One of the most heartbreaking moments in American history took place when the Government mandated the forced removal of Cherokee Indians from the Eastern Mountains and relocation to modern day Oklahoma. We know that 4 of 17 routes taken were by water. It is known that one, possibly more detachments stopped along the Paducah waterfront for supplies during the winter of 1838-1839. A new interpretive exhibit commemorating this point of history dedicated to the Trail of Tears National Historic Trail can be viewed at the Paducah Riverfront near the Kentucky Avenue entrance to the floodwall.
History also makes its mark at Mantle Rock, a nature preserve in nearby Smithland, Kentucky. The area is a certified site on the National Historic Trail with parking and a 2-mile loop maintained by the Nature Conservancy and the National Park Service. 
The Trail of Tears National Historic Trail traverses Kentucky as well as Alabama, Arkansas, Georgia, Illinois, Missouri, North Carolina, Oklahoma and Tennessee. 
Stay in Paducah to Explore More!
Be inspired by Lucas' insights to stay active outdoors in Paducah or to road trip through our region! In addition to Paducah's central geographic location, a variety of local hotels and places to stay make Paducah an ideal home base for exploration and relaxation.
Photos submitted by Lucas Bremer.