Paducah, Kentucky's central geographic location makes it an ideal destination for road trippers. Make Paducah home base for your next road trip to explore western Kentucky, southern Illinois and beyond!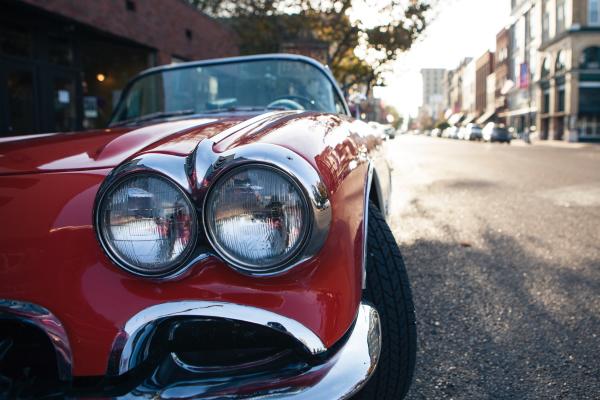 Take the scenic route for picturesque outdoor landscapes, native spirits and authentic Americana.
Take the Scenic Route to Paducah
Follow one of these regional road trip routes or create your own unforgettable path to Paducah. Find inspiration on the open road as you journey through picturesque outdoor landscapes, native spirits and authentic Americana.
For Outdoor Lovers
Paducah + Land Between the Lakes (Kentucky) & Shawnee National Forest (Illinois)
Paducah is positioned halfway between two U.S. Forest Service areas abounding with natural beauty and recreational activities.
GET OUTDOORS: Visit Hooper's Outdoor Center, local outfitter, and BikeWorld, named one of the Best Bike Shops in America, to equip yourself to hike, paddle or bike through Paducah and the surrounding region. Access Land Between the Lakes National Recreation Area at the North Welcome Station (28 miles from Paducah). Or head north to Shawnee National Forest, an area covering a large portion of southeastern Illinois that offers natural areas like Dixon Springs State Park (26 miles from Paducah) and Garden of the Gods (60 miles from Paducah).
ALONG THE WAY: Explore treasured towns, renowned restaurants and more throughout Kentucky's western waterlands surrounding Land Between the Lakes, including Grand Rivers, Kentucky, the charming waterside village between Kentucky Lake and Lake Barkley. Metropolis, Illinois, Home of Superman, welcomes you on the Illinois side of the Ohio River with quaint boutique shopping and the iconic Superman statue en route to the Shawnee Hills wine region and outdoor experiences.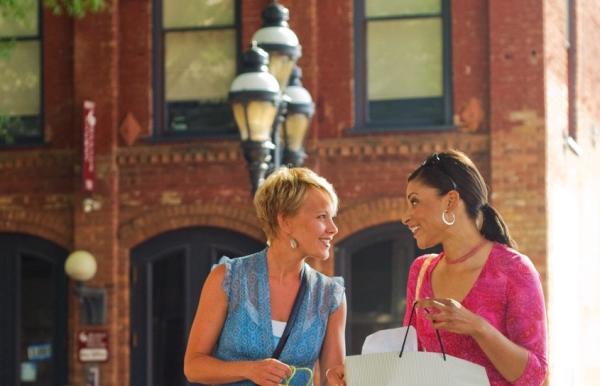 Explore treasured towns, renowned restaurants and more throughout western Kentucky.
For Culture Lovers
Paducah + Owensboro & Bowling Green, Kentucky
Follow this classic three-point western Kentucky route for a primer on internationally-known American traditions that are native to the Bluegrass State.
BE INSPIRED: From Paducah's National Quilt Museum to the International Bluegrass Hall of Fame in Owensboro (130 miles from Paducah) to the National Corvette Museum in Bowling Green (150 miles from Paducah), this triangular trip connects you with Americana in the heart of Kentucky.
ALONG THE WAY: Begin with the museums and stay for the culture as these three destinations are gaining acclaim for cultural travelers of all ages. Take historic Highway 60 between Paducah and Owensboro, parallel to the Ohio River, which connects the two river cities. Don't miss the magnificent Mammoth Cave National Park, a UNESCO World Heritage Site, just outside of Bowling Green.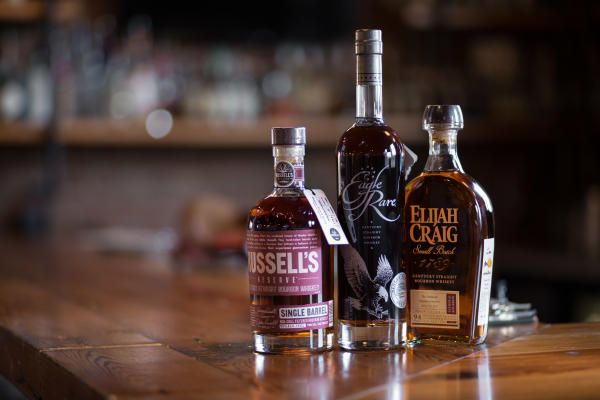 Begin your encounter with Kentucky's native spirit in Paducah
For Bourbon Lovers
Paducah + the Kentucky Bourbon Trail
Paducah is a gateway into Bourbon Country as you enter Kentucky from the west.
DRINK IT IN: Book a room at 1857 Hotel, one of Bourbon Review's best places to stay in Bourbon Country before taking in all of Paducah's local flavor. Walk about Paducah's historic downtown for at local distilleries, Silent Brigade Distillery and Paducah Distilled Spirits, or bourbon-centric bars like the acclaimed freight house and Barrel & Bond.
ALONG THE WAY: Go where the spirit leads you, trailing distilleries on the Kentucky Bourbon Trail and Kentucky Bourbon Trail Craft Tour to Louisville (220 miles from Paducah) and Lexington (255 miles from Paducah).M.B. Roland and O.Z. Tyler are two favorite western Kentucky distilleries on the Craft Tour and Bourbon Trail respectively.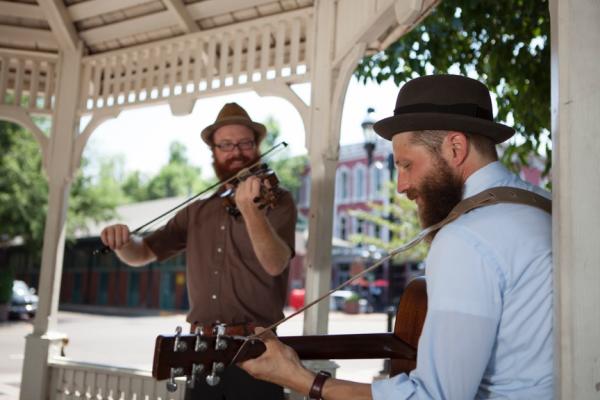 Feel the rhythm of Paducah's music scene at nightlife and performance venues.
For Music Lovers
Paducah + Nashville & Memphis, Tennessee
Paducah sits at a crossroads between some of America's most beloved music cities.
LISTEN UP: Discover the unique style of folk music derived from the rivers that originates in Paducah from local trio, The Wheelhouse Rousters, and at Inland Waterways Museum. Tune in to our Creative City's rhythm as talented performers take the stage at nightlife and performing arts venues and annual events throughout the spring, summer and fall.
ALONG THE WAY: Meander the rivers and roads that introduce you to diverse American music hubs surrounding Paducah. Kentucky Bluegrass originates near Owensboro, Kentucky (130 miles from Paducah), and the nearest major metropolitan area is "Music City" Nashville, Tennessee (140 miles from Paducah). Memphis, Tennessee (180 miles from Paducah), "home of Blues, Soul and Rock & Roll," is just southwest of Paducah, and Paducah's fellow UNESCO Creative City, Kansas City, Missouri (420 miles from Paducah) boasts rich jazz heritage.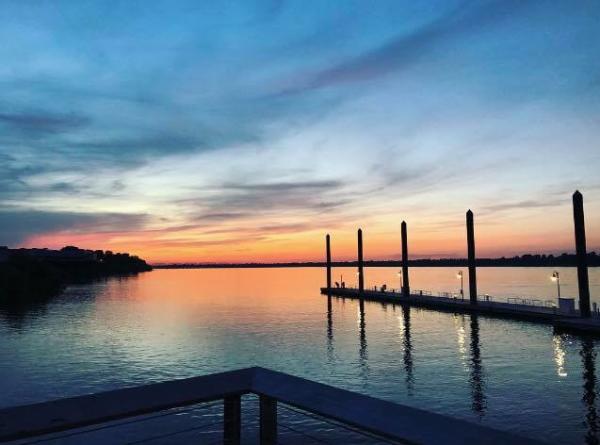 Dock in Paducah as you cruise America's inland waterways
For Water Lovers
Paducah + the Four Rivers Region (Ohio, Mississippi, Tennessee & Cumberland Rivers)
Go off-road and onto the water to explore the Four Rivers Region by boat.
SET SAIL: The new City of Paducah Transient Boat Dock welcomes cruisers with cultural amenities and attractions within view from the dock. Located at the confluence of the Ohio and Tennessee Rivers, Paducah is easily accessible by waterway.
ALONG THE WAY: From this confluence, you can travel to many destinations along the Ohio, Tennessee and Mississippi Rivers. Follow the Tennessee River from Paducah to Knoxville, Tennessee and discover the Tennessee RiverLine. Embark on the "bucket list adventure known as America's Great Loop. Or leisurely loop your way around Kentucky Lake and Lake Barkley, stopping at numerous nearby marinas.
Plan your road trip!
Create your own road trip with travel planning resources including interactive maps and the Paducah Visitors Guide. Connect and share the inspiration you find in our region by tagging #PaducahCreativeCity!