Discover your inner artist and Paducah history at once as you color Paducah "Wall to Wall" Murals. Download printable coloring pages illustrated by local artist Bill Ford to add your creative touch to these famous portraits from Paducah's past!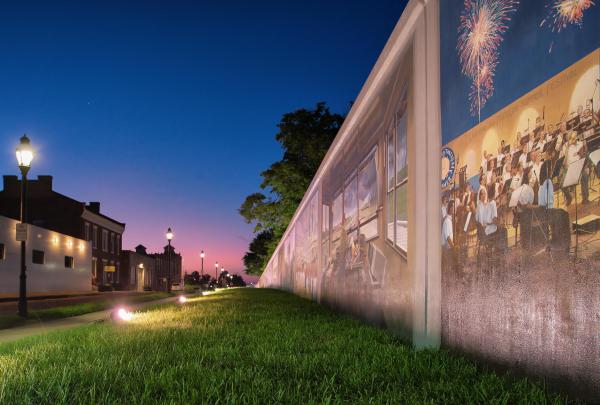 Celebrating 25 years in 2020, the Paducah "Wall to Wall" Murals project is on view 24/7 
Magnificent Dafford Mural Art
Inspired by the 50 magnificent murals by renowned muralist Robert Dafford that adorn Paducah's floodwall, local designer and illustrator Bill Ford created a series of original pen and ink drawings.
"I had a dream for a coloring book that would also include the history of Paducah as represented on our fabulous floodwall by Robert Dafford and his talented team," Ford says. "I hope everyone enjoys coloring our floodwall!"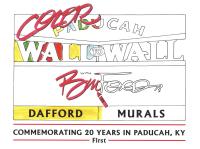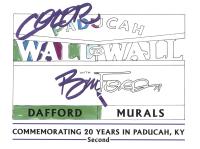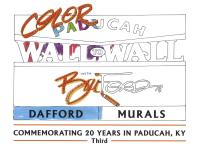 Ford's illustrations are collected in three volumes of Color Paducah "Wall to Wall" coloring books, available at Midtown Market. All proceeds from the purchase of these and the new full-color Paducah "Wall to Wall" commemorative book benefit future Dafford Mural maintenance in Paducah.
Color Paducah "Wall to Wall"
Print and color the sample pages below while you practice social distancing! Each of Ford's illustrations is accompanied by a photo of the Dafford mural and corresponding interpretive panel information for reference, but we encourage you to be creative in adding color to these Paducah scenes.
---
Paducah "Wall to Wall" Title Panel
Located at the corner of Water and Jefferson Streets, near the National Quilt Museum, this title panel welcomes you for a self-guided tour of public art. Robert Dafford and his talented team of muralists researched local history to design and paint each of the 50+ panels featured on Paducah's floodwall.

---
1940's Broadway Scene
Broadway, Paducah's "Main Street," is one of the best-loved locales in Historic Downtown. This classic 1940's scene spotlights long-standing architectural treasures like the Columbia Theatre that can be explored today on the Historic Paducah Audio Tour.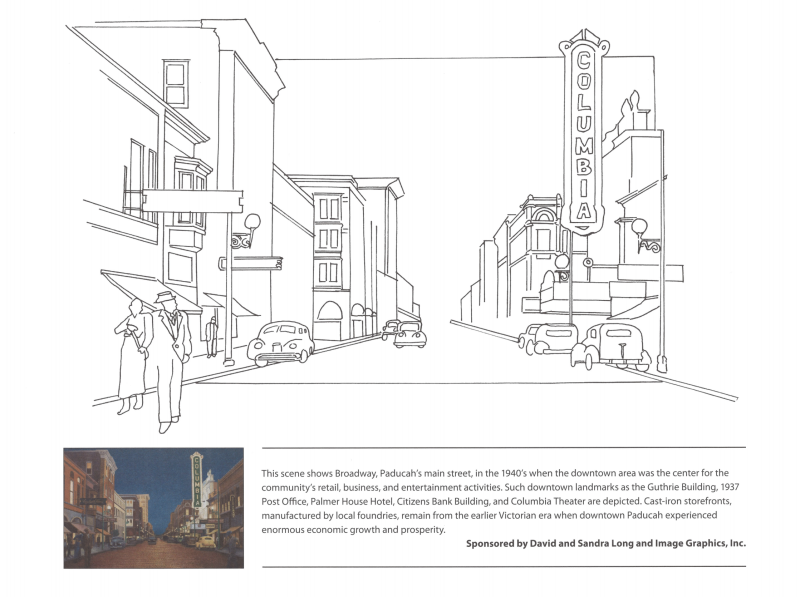 ---
Chickasaw Tribe and the Lewis & Clark Expedition
The murals spanning Water Street between Broadway and Kentucky Avenue spotlight Paducah's river history, from Native American mound builders to the modern day maritime industry. Detour to Inland Waterways Museum for a deep dive into the legacy and lore of the inland waterways, or trace the path of the Corps of Discovery on the Lewis & Clark National Historic Trail.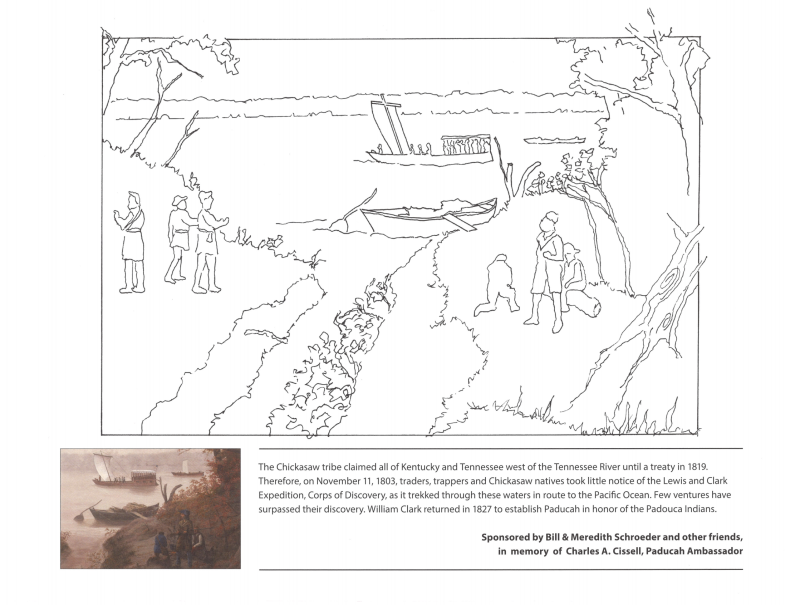 ---
The Coke Plant
Located at the corner of Water Street and Kentucky Avenue, this portrait pays tribute to Paducah's connections to Coca-Cola. The 1939 Coke Plant mural is suitably situated next to The Carson Center, named for Luther F. Carson, founder of the Paducah Coca-Cola Bottling Company.

---
Show off your artwork on social media by using the hashtag #paducahcreativecity!
FOR MORE VIRTUAL EXPERIENCES AND WAYS TO SUPPORT LOCAL BUSINESSES AT THIS TIME, PREVIEW OUR "SOCIAL DISTANCING" INSPIRATION GUIDE AND CURRENT COVID-19 UPDATES.
All Dafford Murals are copyrighted. All reproductions for profit must be approved by Paducah Wall to Wall, Inc. or Dafford Murals.