Preservation-minded couple Ed and Meagan Musselman created a stir when they set out to restore the Art Deco architectural gem that was built by Luther Carson in 1939 as a Coca-Cola bottling plant. Envisioning a mixed use renovation, their creativity is shining through in this landmark building located at the heart of Paducah's Midtown neighborhood.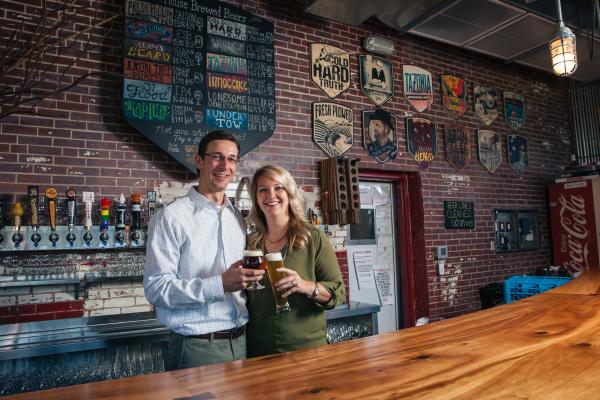 Meet the Musselmans, the visionaries behind the revitalization of the Coke Plant.
A New Vision for The Coke Plant
After working in real estate rehabilitation and development for almost a decade, the Musselmans began the hunt for a historic property. Their vision was set in motion when they acquired The Coke Plant, a beloved building that had sat vacant for nearly 20 years.
"The Coke Plant is one of the most beautiful Art Deco buildings in our city, and we were honored that we were able to play a part in bringing it back to life for the community."
The Musselmans sought out collaborative occupants to fill The Coke Plant and showcase what Paducah has to offer. They characterize the mix of tenants as passionate locals who execute their business models exceptionally and share their love for Paducah through the products and services they offer the community.
"Paducah fosters community and creativity. The arts are one way creativity is highlighted in our city, but we feel Paducah's business community is very creative in entrepreneurial endeavors and supports those individuals who dare to think differently. Helping to continue to build community and a place where people and ideas can collide is important for our city to grow and prosper."

The Coke Plant is an Art Deco landmark listed on the National Register of Historic Places.
Creativity-Fueled Experiences to Enjoy
By design, the creativity of The Coke Plant's entrepreneurial occupants complement one another to yield a strong sense of community. Awe-inspiring architecture now sets the tone for the contemporary culture and experiences to be enjoyed within including:
The Musselmans continue to curate the Coke Plant's next chapter by seeking out business concepts that will be a great fit for the community as well as having passionate owners that excel at what they do.  The Coke Plant is a testament to Paducah's continued evolution as one of the world's UNESCO Creative Cities.
"There are pockets of creativity across our country. Some get acknowledged and are encouraged to flourish; others are isolated and struggle to thrive. UNESCO affiliation gives our town an international presence and our creative energy legitimacy."

The "Enjoy Paducah" mural commands a view of Midtown from Mellow Mushroom.
Midtown Renaissance
After spending a few hours at The Coke Plant, continue your discovery of Paducah in Midtown and beyond!
"Paducah is a genuinely wonderful city full of Southern Hospitality in its residents, beauty in its riverfront, parks and historic buildings.  We offer numerous unique things for visitors to do, see and experience, and, in true Southern fashion, you won't leave here hungry! We have some of the best restaurants!"
Nearby, you'll find more shopping, dining and entertainment in the Midtown neighborhood. Within walking distance from The Coke Plant, you'll see gourmet grocery Midtown Market,H.B. & Company and Flower + Furbish.
Just blocks away are many Midtown specialty shops including BikeWorld where you can pick up a cycle rental for further exploration. Make a pit stop at Starnes Bar-B-Q before heading on to Bob Noble Park and the Greenway Trail, a scenic route to recreation, Historic Downtown and the Paducah Riverfront.