When locally-loved and internationally-known musician, J.D. Wilkes performs, he takes Paducah's creativity along for the world to see!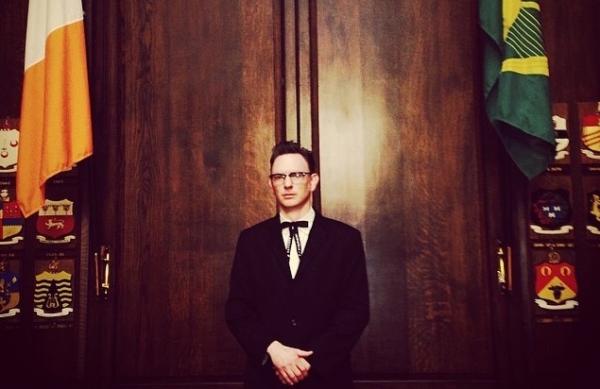 J.D. Wilkes represents Paducah while touring with his band, the Legendary Shack Shakers.
"To share [Paducah] with the world, through UNESCO, is the ultimate thrill."
The multi-talented Paducah musician, author and visual artist reflects fondly on the "old Paducah" of his childhood and how those memories inspired him to delve into the tunes and tales of the region. "Then to share those with the world, through UNESCO, is the ultimate thrill for a homesick guy like me," he muses.
Follow Wilkes' adventures abroad representing Paducah in cultural exchange and our fellow UNESCO Creative Cities!
"I am deeply honored to represent my hometown during my travels abroad," says Wilkes. "Before every European tour with my band, Legendary Shack Shakers, I consult with the Paducah Visitors Bureau whether any of our stops include a UNESCO city. So far I've gotten lucky three times, first with Dublin, Ireland then Glasgow, and most recently in Edinburgh, Scotland."
Presenting Rebecca and Sian from the Scottish Storytelling Center in Edinburgh with a collection of literature from Paducah, including a copy of his new novel, The Vine That Ate The South
Touring The Glasgow Royal Concert Hall with Music Producer Colin Hynd, a cultural exchange while on The Legendary Shack Shakers' Southern Surreal Tour
Exchanging tokens of creativity with author, actor, playwright and Deputy Lord Mayor Gerard Mannix Flynn at the Mansion House in Dublin, including his book, Barn Dances and Jamborees Across Kentucky, and a small quilt illustrating Ireland's influence on the Kentucky craft.
When in #PaducahCreativeCity...
Though Wilkes stays busy on the road with his many creative pursuits, you can often find him performing in Paducah, playing solo sets at local venues or presenting his latest literary creations. You can also behold his 8-foot wide Chief Paduke painting featured at Mellow Mushroom in The Coke Plant!
To gain a deeper understanding of the creativity and musical heritage of western Kentucky, read Bluegrass Breakdown, an article penned by Wilkes for Oxford American's Kentucky Music Issue.
For upcoming live music events, visit the Paducah.travel Calendar of Events!