Satisfy your sweet tooth at these local places that specialize in sensational sweets — available only in Paducah, Kentucky! From edible cookie dough to cupcakes and milkshakes and macarons, any dessert lover will delight in the decadent options in Paducah.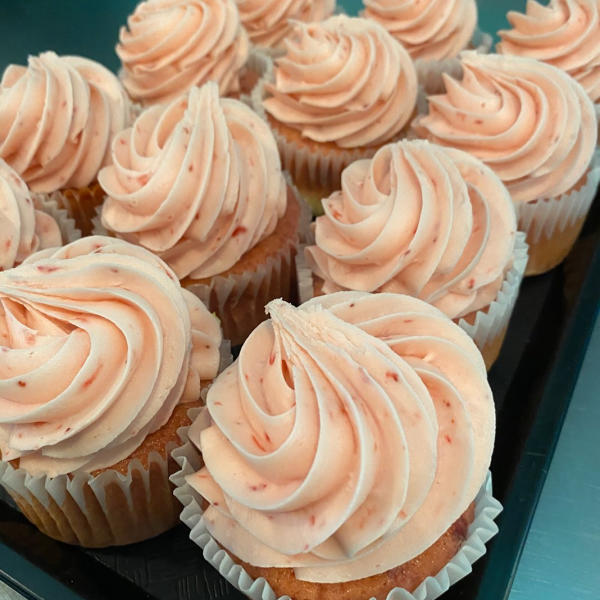 Indulge in cupcakes, cookies, ice cream and more! | Cass Sweets & Eats
Paducah's penchant for sweet treats is no surprise with ties to the origins of Krispy Kreme and as the world headquarters of Dippin' Dots — the ice cream of the future. You'll find creatively crafted confections at bakeries, donut shops, ice cream parlors and dessert boutiques throughout Paducah!
Preview this wide-ranging selection of treats, sugary snacks and desserts to enjoy in Paducah. View our full directory of drinks and sweets in Paducah or the Paducah Dining Guide for more inspiration.
DONUTS
Eat dessert first by starting your day with a delicious Paducah doughnut or a dozen to share.
A Paducah mainstay since 1952, Munal's Donut Shop stocks dozens of decadent donut varieties. From traditional yeast to cereal-topped on Cereal Saturdays, the never-ending creativity yields fresh, inventive flavor options every week.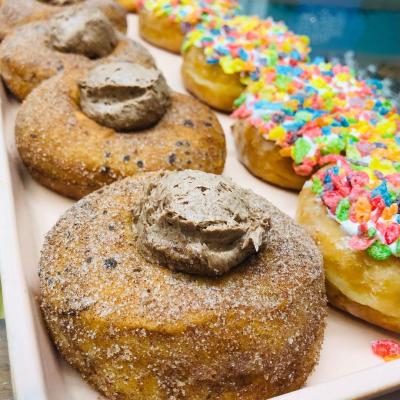 Snickerdoodle and Fruity Pebbles Donuts | Munal's Donut Shop
Paducah's other donut dynasty, Red's has been family-owned and operated since the 1950s in Midtown. Now joined by Red's Donut & Coffee Co. near Kentucky Oaks Mall, these famous melt-in-your-mouth glazed donuts and donut holes are made fresh daily along with specialty items like apple fritters and oversized honey buns.
ICE CREAM & FROZEN TREATS
You'll scream for these epic ice cream and frozen yogurt creations in Paducah.
Watch as the freshest ingredients are rolled into ice cream treats right before your eyes and served in a cup, a waffle cone or atop a puffle wrap. Craving the Curls capitalizes on the newest ice cream trend with a menu of must-tries and weekly specials that play up seasonal flavors.
Paducah's local fro-yo shop features 12 rotating flavors of frozen yogurt and approximately 50 toppings at Swirl's self-serve frozen yogurt bar. Create the over-the-top treat of your dreams or leave it to the experts for a fresh fruit smoothie.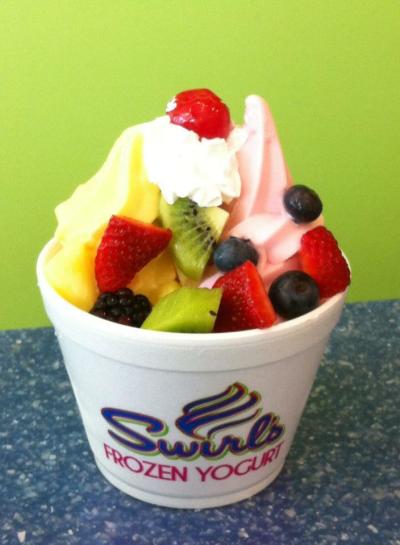 Pineapple Dole Whip and Strawberry Frozen Yogurt topped with fresh fruit | Swirl's Frozen Yogurt
CAKES, COOKIES & BAKED GOODS
Indulge in an all-dessert tasting tour of popular Paducah bakeries.
Stop in for lunch or baked goods at this beloved local catering company and cafe known for talented pastry chefs. Artisan-crafted desserts are always available in the AK Cafe bakery, including cakes, cheesecakes, cookies, dessert bars, cupcakes and more.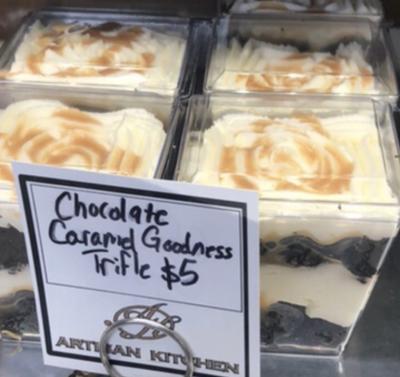 Chocolate Caramel Goodness Trifle  |  Artisan Kitchen
This Lone Oak bakery specializes in sweets and eats that are perfect for breakfast or dessert. Get your fill of Cass & Company's famous made-from-scratch pies and pastries, breads and cinnamon rolls, giant cupcakes and gelato.
Originally opened in 1873, the Kirchhoff's baking tradition spans five generations in Historic Downtown Paducah. Indulge in delicious dessert bars and more than a dozen varieties of crave-able cookies, sweet and savory pastries and artisan bread crafted using Old World recipes.
MORE SPECIALTY SWEETS
Don't miss these creative culinary partners for even more sugar-filled snack options.
The baked goods case at this plant-based delicatessen is not to be missed — and all vegan and gluten-free. Choose cupcakes, cookies and donuts from Branch Out's seasonal rotation of flavors.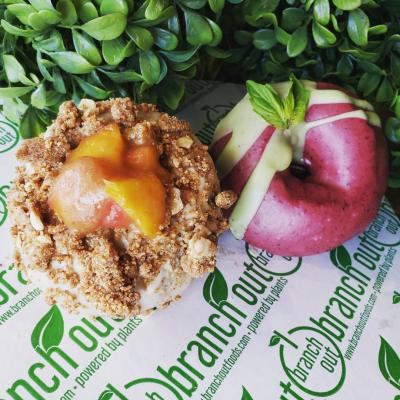 Peaches & Cream Cupcake and Peach Crumble & Blackberry Basil Donut | Branch Out Foods
Build your own dough-lectable combination of the signature edible cookie dough and dramatic ice cream flavors at Dough & CO. Opt for a sampler of cookie dough bites, seasonally inspired slice or cheesecake, a stuffed cookie or keto-friendly favorites.
---
WHAT IS YOUR FAVORITE SWEET TREAT IN #PADUCAHCREATIVECITY?
View our full Drinks & Sweets directory for even more dessert options in Paducah as well as coffee shops serving up sweet lattes and tea drinks. Looking for boozy beverages? Sip fruit infused wines at Purple Toad Winery or handcrafted cocktails at local bars.