Paducah and Jingdezhen, China are two of 37 UNESCO Creative Cities currently designated in the creative field of Crafts & Folk Art. Together, the cities have now created a one-of-a-kind, intercontinental connection through artist-in-residence programs.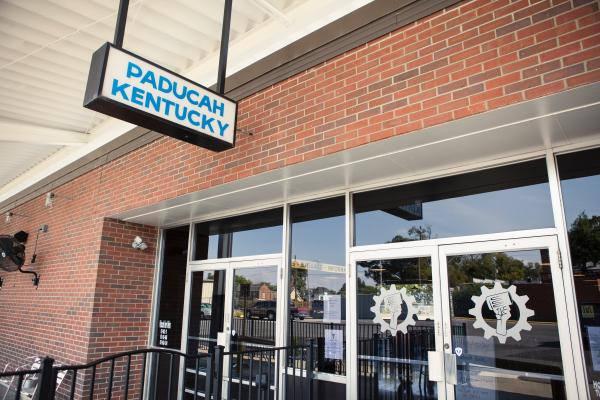 Local meets global in #PaducahCreativeCity.
3 Artists. 2 Creative Cities. 1 Inspiring Connection.
Following Paducah's designation as a UNESCO Creative City in 2013, Jindezhen earned designation is 2014 for its role in the ceramic industry as a global "Porcelain Capital." Paducah ceramist Mitch Kimball leveraged this connection to participate in a residency at the Pottery Workshop in Jingdezhen in 2018. There he met Ma Migkui and Ma Xinkai, a creative father/son duo, who journeyed to Paducah to participate in the Paducah Arts Alliance Artist-in-Residence Program in 2019.

Kai and Kui pose with the kiln at S&M Studios, studio of Paducah ceramist Mitch Kimball
"Everything was perfect. Every day was good. The Paducah experience was much more than I thought it would be. There are so many artists in Paducah - so many different kinds of artists." - Ma Xinkai, PAA Artist-in-Residence
In 2016, Migkui moved to Jingdezhen and opened the city's first craft brewery and pub, Southern Sloth. Southern Sloth is becoming a popular stop for craft beer after winning third prize in the First International Craft Beer Competition in China in 2018.
"East Meets West" in Paducah
Like Mitch's time in Jingdezhen, Migkui and Xinkai's residency was spent learning, experiencing Paducah's creative culture and building relationships with local artists - including ceramists and craft brewers. An "East Meets West" collaboration with Paducah Beer Werks emerged through which the visiting artists and Paducah brewers discussed ingredients and processes.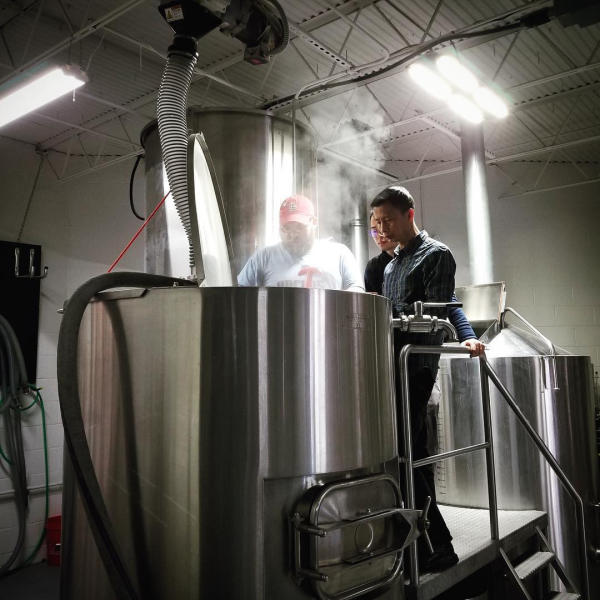 Kai and Kui collaborate with Paducah Beer Werks on "East Meets West" brew
"Our mission at Paducah Beer Werks is to support creativity and community in Paducah through food, music and beer. Beer is universal - it brings people together, even from the farthest corners of the globe. We are thrilled tow ork one-on-one with brewers from around the world." - Melanie Reason, Paducah Beer Werks
Creativity on Tap
The pale ale flavored with black tea from China, "Behold a Pale Sloth," is now on tap at Paducah Beer Werks!