Days of Bread is a collection of ingredients, recipes and cultural stories that symbolize the unique culinary histories of the UNESCO Creative Cities Network. Download the Days of Bread App to discover traditional breadmaking techniques around the world and the bakers and bakeries that preserve them, including Paducah's own Kirchhoff's Bakery!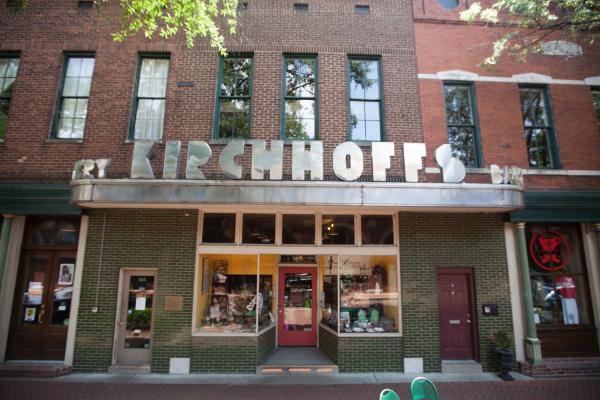 Kirchhoff's Bakery & Deli is located on Market House Square in Historic Downtown Paducah.
Days of Preparation, Years of Tradition
For Days of Bread, Kirchhoff's shared a recipe for salt rising, a multi-day preparation technique with deep roots in Appalachian culture. The salt rising recipe is indicative of the complexity, innovation and love of good food that exists throughout the region.
The recipe represents the Kirchhoff baking tradition which has been deeply intertwined with Paducah's history for generations. In 1873, Prussian immigrant, Franz Kirchhoff, began baking bread in Historic Downtown using a wood-fired oven and proven family recipes. Today, Kirchhoff's Bakery continues to combine Old World recipes with quality ingredients to make fresh artisan breads.

Salt rising bread, a tradition of Appalachia, prepared by Kirchhoff's Bakery
Bread as a Symbol
The inspiration for the Days of Bread project comes from the words of Krakow City of Literature, "... bread is a symbol of fecundity and miracles, generosity and sharing… bread fulfills a specific function in social and culture by providing nourishment and sustenance, and its methods of preparation and associated traditions are as diverse as the world itself."
Coordinated through the International Traditional Knowledge Institute (ITKI), Days of Bread debuted during the UNESCO Creative Cities Network XII Annual Meeting in Krakow-Katowice, Poland.
Sharing Local Flavor Worldwide
The Days of Bread initiative is Paducah's second Creative Cities collaboration spotlighting culinary creativity and global connections during the "Year of Kentucky Food."
Click here to learn more about Paducah's participation in the inaugural Sabores y Saberes gastronomic festival in San Cristobal de las Casas, Mexico!