San Cristobal de las Casas, Mexico invited Paducah to participate in a collaboration of UNESCO Creative Cities during the first artisanal and gastronomic festival, "Sabores y Saberes," February 2-5, 2018!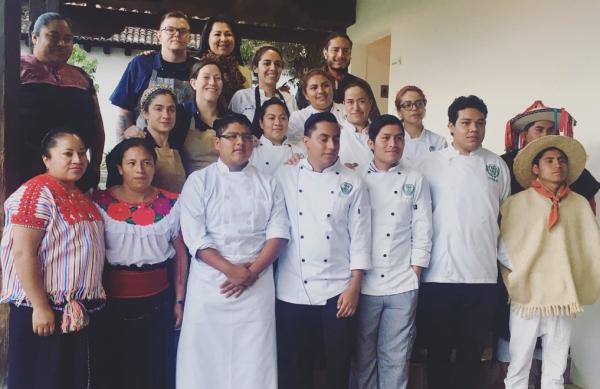 Paducah chefs collaborated with San Cristobal culinary students to present a gastronomic tasting.
The new festival aims to promote local gastronomic and artisanal expressions and global connections in the UNESCO Creative Cities Network through cultural exchange and international collaboration. The event contemplated the transversal connection between gastronomy and crafts and folk art with the participation of Creative Cities, including Icheon, South Korea (Crafts & Folk Art); Ensenada, Baja California (Gastronomy); Paducah, USA (Crafts & Folk Art); and Popayan, Colombia (Gastronomy).
Sharing artisanal knowledge, "Saberes," and gastronomic flavors, "Sabores"
A Paducah delegation of local artists, educators and leaders participated throughout the four core sections of the event: gastronomic tastings, Crafts & Gastronomy Expo-Fair, thematic reunion of the Creative Cities and cultural exchange. View the press release about Paducah's participation here.
Experience Sabores y Saberes through the words of Paducah representatives, and view a Flickr album of this Creative Cities collaboration here!

Mayor Brandi Harless

Thematic Reunion of Creative Cities
"I am constantly in discussions trying to answer the question "How do we grow the City of Paducah?". In some instances, we mean financially, in others, we mean population. Growing in either of those areas requires a lot of thoughtful work. One important way for a community to grow is by reaching new networks, building relationships, and exposing new people to the unique culture of Paducah. One of these networks is the Creative Cities Network in which we have been accepted. Many of our leaders in the past saw this opportunity and made a smart decision to expand our network to include other Creative Cities around the world. Cultural exchanges through the Creative Cities Network offer a platform for new relationships, and thus new opportunities for our creative economy and our city! Sabores y Saberes was the first time 'creatives' outnumbered leadership at a Creative Cities event. Our hope for the future is that the leadership, side by side with artists, will embrace this development and continued evolution of local culture. This is a first step, and I welcome more citizens to engage and look for ways to be involved in moving forward."

Sara Bradley

Chef, Paducah Gastronomic Tasting
"We thought we were going to a UNESCO gastronomic festival to share with others our food and folk arts but ending up bringing and taking so much more. Even though the altitude, measurements and tools were all different, we traded cooking techniques completely foreign to one another and grew as chefs. Plus, I saw more types of bananas that one person could ever imagine! Despite language barriers, I witnessed an elderly indigenous woman openly weep as members on our delegation sang roots music a capella. The busy streets fell silent. I was standing next to a friend I had made that was a master potter from Icheon, South Korea and a chef at the local culinary school in San Cristobal de las Casas. That same chef, Miroslava, gave me her mortar and pestle that she has been using her entire culinary career. She told me to never wash it, so I assume it is like her well seasoned cast iron skillet of the south. While my team was cooking in the most amazing brick pit, built specially for us, my counterparts visited an indigeinous community. The potter in our group went into the mountains and threw on a wheel that turned backwards with clay that was mostly sand while working alongside two of the most highly-respected master ceramic artists from South Korea and a native. We gifted handmade bourbon cups and brought hand-dyed textiles for the Paducah tasting for people to use as napkins and take home as souvenirs. We exhibited modern and traditional quilts in our booth, and it was amazing to watch people ooh and awe over the detail work of something that I've become so accustomed to. We sat around the table and discussed with people from four different continents what we can do to push our city governments toward supporting the arts. We were told that our delegation transcended political boundaries and that we always had a home in UNESCO. We brought many of the things that make paducah wonderful along for the trip, but not everything. we showed off our delicious food, art, textiles, roots music and camraderie, but, most of all, Paducah showed up with good ol' Southern hospitality. we made people feel welcome to our city, even though they weren't there. I am so proud of my hometown and the people in it."

Todd Anderson

Paducah Concert & Traditional Music Presentation, Crafts & Gastronomy Expo-Fair Wood Art & Leather Work
"It was at the end of the meal Chef Sara and her team had prepared and served. Everyone was talking and getting ready to leave. Our band went into our final 2 songs. We had prepared to end the show slightly differently than we normally would. First we played "Las Chiapanecas" it is a song from Chiapas that Josh had learned was their regional anthem. As we started into this song the room came to a complete standstill. Everyone in the room stopped, stood and turned to us. We then finished with a full-throated arm in arm rendition of "My Old Kentucky Home", by the time we finished the room was in tears. Picture that, roughly 100 adults, at least three languages plus the language of music and half of the room was in tears and hugging. It was a very powerful moment! It is the type of connection that can only be made by the heart of by mutual respect and admiration."

Nathan Brown

Paducah Concert & Traditional Music Presentation, Master Hands of Ceramics Workshop & Exhibition, Crafts & Gastronomy Expo Fair Ceramics
"Perspective. As an artist, I have always sought to look at things from different angles. I have always thought of my eyes as a set of lenses and my mind a set of filters built by my own experiences. The cultural exchanges of the Sabores y Saberes event in Mexico have brought me a whole new way of looking at the world and have given me a new perspective on my place in it. New lenses. New filters. I am so honored to have been a part of this important event. I have received more than I have given. In a more pragmatic sense, my experiences with this UNESCO event have made it clear that It takes organization, leadership and initiative to drive these things forward. The Sabores y Saberes cultural exchange has made me a better artist, a better communicator and a better person. I have always felt a sense of pride in my Paducah creative community, and because of my experiences in Chiapas, I have a renewed sense of purpose to share our unique perspective with the creative communities of the world. The creative and cultural spirit of Paducah is strong. We have a lot to share, and our perspective can give life and new meaning to the creative cultures of other places. It is collaboration and cooperation that bring energy and purpose to those around us. I understand that through shared experiences, all the citizens of the world can come to a place of understanding in real time, beyond the abstract. As we share and learn from others, we are forging our own creative community in the world, transcending language, borders and politics. I am so proud to have played a small role in representing Paducah at this UNESCO event. It has truly changed my life forever."

Josh Coffey

Paducah Concert & Traditional Music Presentation
"Prior to our departure, I knew our trip was well-organized and given the time and funding to assemble a crew, we had the best people available to represent our region and culture with greatest impact in small numbers. San Cristobal de las Casas is coined as the 'City of Magic'. It more than lived up to it's name! We represented, we overcame obstacles together and individually, we made new long-lasting friendships not only internationally but among our group. We each brought back some of their magic as well as shared some of our own for the people we impacted to bring home with them. I saw how our community is so special not only from our performance of 'Paducah Day' but our interactions with other leaders. We still have much to learn, and I can't wait to see where our community goes next not only globally but right here in Western Kentucky."

Nathan Blake Lynn

Paducah Concert & Traditional Music Presentation
"I was honored to represent my community at 'Sabores y Saberes' in San Cristobal de las Casas. It is my hope that our work will draw world travelers to Paducah and continue to bring growth to our region. While I cannot speak for all the amazing local artists of our region, I do know that many of us have dedicated much of our lives, studies and art to promoting Paducah. With that being said, I am humbled to have been able to share in such a meaningful cultural exchange and hope that in the future other artists will be able to do the same. It's my belief that this experience will provide the world the same validation that I receive from Paducah citizens, who recognize local artisans as vital members of our community."

Lexie Millikan

Fiber Artist, Crafts & Gastronomy Expo-Fair
"My experience in Mexico was so incredible it's difficult to put into words. I went into this trip expecting to make new connections by representing Paducah and see a different part of the world. Well, I didn't make connections, I made friends. And, I didn't just see another part of the world. I was completely immersed in another culture. Because of these things, I have come back with a very different perspective. I am motivated to reach out more to the people around me, share and learn about new places, and push myself artistically. The beautiful architecture, landscape, art, craft, music and food of Chiapas gave me so much inspiration to feed my own artistic practice. I had the opportunity to meet the only two fine art painters in Chamula, who are brothers that work in a studio together. I learned that they struggle with similar things as artists all over the place- financial instability, lack of access to materials, inability to get people to believe in sending their children to learn about art (because it's not a practical way to make an income). The realization that we share some of the same hurdles motivated me even more to keep fighting for the arts that I so strongly believe in. One of my favorite parts of the whole experience was interacting with the children in San Cristobal. Despite the language barrier, many of the children at the festival came up to talk to me. Between my small amount of Spanish and the Google Translate app, I was able to learn a little bit about many of the kids. I had some hand dyed fabric (thanks to Hancock's of Paducah) that I fashioned into bandanas for them, starting with Daniela who had been stationed at the booth across from us, selling amber jewelry with her parents. Next was Sophia, who came back later with a tiny ceramic cup that she presented to me with a twinkle in her eye, as a thank you gift for the bandana. Many other kids joined in the fun and came to pick up their own special fabric accessory from our booth. When Daniela showed up the next day, still sporting her bandana, I was overjoyed. I can't help but think that this is how diplomatic relationships should start: young people interacting with people that are different from them, taking the time to communicate and share, and then holding that in their heart as they go through life."

Tyler Van de Velde

Sous Chef, Paducah Gastronomic Tasting
"Sabores y Saberes was a life changing and extremely humbling experience that I will never forget. I find myself having trouble putting into words the effect this trip had on me. The people of Chiapas were so welcoming and accommodating. Experiencing the outdoor market and getting to cook with the local culinary students that were so eager to learn from us were the highlights of my trip. It was an extreme honor to have this opportunity, and I have become so inspired by it. I now consider the people that I had the pleasure of joining on this trip that were once no more than acquaintances, family. Chiapas, Mexico will hold a special place in my heart for the rest of my life, and I hope that I can visit again and again."
Missy Corey

Sous Chef, Paducah Gastronomic Tasting
"It's hard to express the feelings of gratitude I have. The opportunity to represent Paducah in San Cristobal de las Casas was such an honor, and an experience that I will never forget. I think that one of the moments that touched me the most was when one of the organizers of the festival described Paducah as an embrace, a hug, that enveloped the festival and everyone who participated in it. This was certainly the feeling that I have and will always remember. A strong confident hug, full of warmth, energy and openness. A warmth so strong it can make you forget where you are, the chaos around you, and focus on only that one, single feeling of acceptance and love. That is what the delegation from Paducah brought to 'Sabores y Saberes'. In addition to a wealth of creative energy and talent, what I will remember most is: the strength of conviction, knowing oneself, and that the best way to treat others is with an open heart. An openness, a willingness to take the moments as they came, a mountain of creative energy, positivity, an honest smile and… a big ol' hug."

Landee Bryant

Documentarian
"Going into this with a very limited perspective of what it would truly mean, I have returned to my beloved hometown with a new perspective - a new way of looking at Paducah and its broader reach. A pride that I have always felt, but that has been amplified. A desire to share with everyone I see, the impact interactions can have, as we are easily retired to our own individual life/work bubbles and rarely take the time to observe the world and our place in it through the eyes of others. Each moment was to be absorbed to the fullest, as we all knew how lucky we were to be able to participate in such a special inaugural event as Sabores y Saberes. I am forever changed and look forward to the collaborations that will be born and global impact this will have for all residents of Paducah and the region."

Laura Oswald

Paducah Creative City Focal Point
"It is always an honor to do the work that I do as a tourism professional - to tell Paducah's story, share our city's creative culture with the world and invite outsiders in to experience it firsthand through travel. That welcoming invitation was fully extended as Sabores y Saberes attendees were immersed in the authentic flavors, textures and sounds of Paducah! It was a privilege to stand alongside a delegation of proud Paducahans who represented so well Kentucky cuisine, craft and music on the global stage. Each representative contributed to a portrait of our Creative City's valuable cultural expressions and commitment to creativity and global collaboration that required no translation. Special thanks to Hancock's of Paducah for providing colorful quilts for exhibition in the Crafts & Gastronomy Fair and fabric to be hand-dyed for souvenirs at the Paducah tasting and to our incredible local delegates who invested time, energy and resources to travel and participate in this Creative Cities collaboration."

Isaac Cordero

Host, San Cristobal de las Casas Focal Point
"The participation of the official delegation of Paducah as a Creative City of UNESCO in the first festival artisanal and gastronomic "Sabores y Saberes", was just "Magnificent." We never expected to have a better city as the first international guest. We are so happy with the participation of the team of artisans, chefs and coordinators of the CVB, who worked hard to show us the true spirit of this event. Their participation was a key to make known to all 180 cities of the network and to the entire world the potential and importance of this initiative (We couldn't have made it without them). We have left a huge inspiration, when we see all this team committed to dedicate their passion, heart and soul to show the value of their culture and their city's identity. They left us with high expectations for the future delegations in next editions."