From awe-inspiring natural features like the Paducah Riverfront to one-of-a-kind experiences, landmarks and small businesses, there's so much to explore in our own backyard. When you're ready, we have a few ideas on places to go whether you're looking to explore Paducah "like a local" or be a tourist in your own town!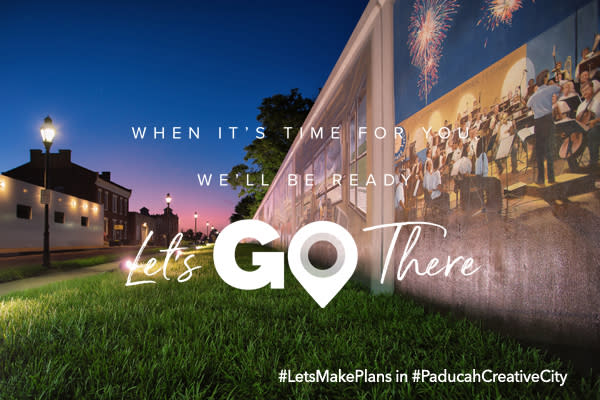 Where will you go next in Paducah, Kentucky? Find inspiration here!
Let's Go There! Make Plans in Paducah
Get ready and get inspired to find creativity, heritage and local flavor in Paducah. Use the checklist and links below as a starting point to tour Paducah for the first time, get out and support favorite local businesses and GO somewhere new with visiting friends and family.
Click on each of the points below for helpful links and planning resources to create your own #PaducahCreativeCity experience:
#LetsMakePlans in #PaducahCreativeCity
Let us know where YOU plan to go next by sharing on social media using the hashtags #LetsMakePlans and #PaducahCreativeCity! Your itinerary ideas could be featured on the @PaducahCreativeCity social media channels as we spotlight local favorites and build the ultimate crowd-sourced Paducah inspiration guide.
---
---
PADUCAH CARES: Welcoming You Back Safely
Paducah partners across the destination are taking extra care to ensure safe, enjoyable experiences in Paducah's restaurants, hotels, attractions and public spaces.
Please review the latest COVID-19 response and reopening updates along with our PADUCAH CARES standards and requests to keep our visitors and community safe! We encourage travelers to call ahead and check partner websites to confirm plans and current amenities.