Downtown Paducah is a treasure trove for bird watching. You just have to know where to look!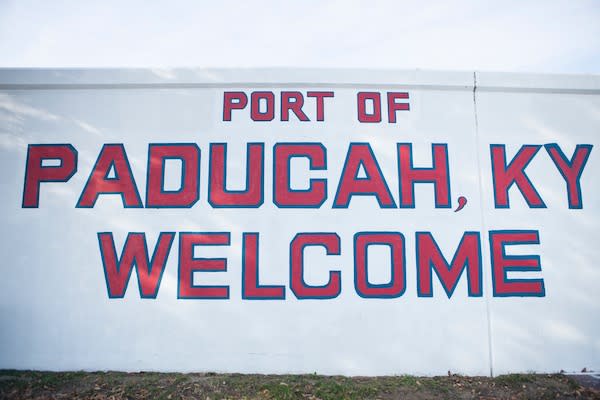 Start your bird watching at the riverfront.
By Susan K. Edwards
Downtown Paducah may not be known as a hot spot for bird watching, especially in the dead of winter, but any time of year is a great time to find a treasure trove of species downtown. Bird watchers can find their old favorites, along with more exotic species like Bald Eagles and migrating White Pelicans as they follow their seasonal migration routes. Rivers are an irresistible draw for birds, so the confluence of the Ohio and Tennessee rivers at the base of Broadway Street is the perfect place to start bird watching.
Historic Riverfront
Scenic river views, paved walkways, benches and picnic tables provide a great place for some casual birding. Visitors can either walk or drive down the ramp to the river's edge to check out the begging seagulls and other shore birds. Sit for a moment and see if you can spot any of the Bald Eagle pairs that are nesting in the forest on the Illinois side of the river. Often, they soar quite low; it's thrilling to see our national bird up close and personal!
Bird watchers can expect paved walking trails, handicap-accessible areas, benches, picnic tables and free WiFi (perfect for using your birding apps).
Look For:
Ring-billed Gulls
Fish Crows
White-throated Sparrows
Cardinals
Mockingbirds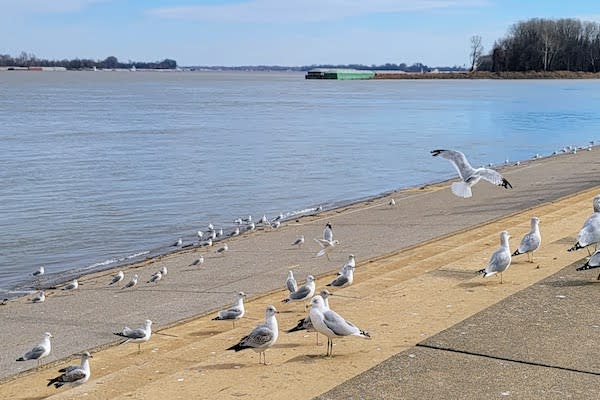 See whole flocks of ring-billed gulls at the riverfront.
Schultz Park
This area is easily driveable, but if you're looking to stretch your legs, take the path from the Port up to the adjoining Schultz Park. Here you will find lovely walkways, scenic riverfront views, the Transient Boat Dock, picnic tables and ample parking.
This is also the trailhead for the Greenway Trail and if you're looking for a place to hike, bike or run, this area is not to be missed. When you've had enough, let others hike while you head over to any of the fine restaurants downtown for a meal.
Look for water birds near the river or nesting woodland birds on the Greenway trail. You'll be surprised by the variety and number of species in this area!
Bird watchers can expect picnic tables, benches, public restrooms, handicap-accessible areas, and paved walking trails.
Look For:
Chickadees
Dark-eyed Juncos
Robins
European Starlings
Red-winged Blackbirds
Mourning Doves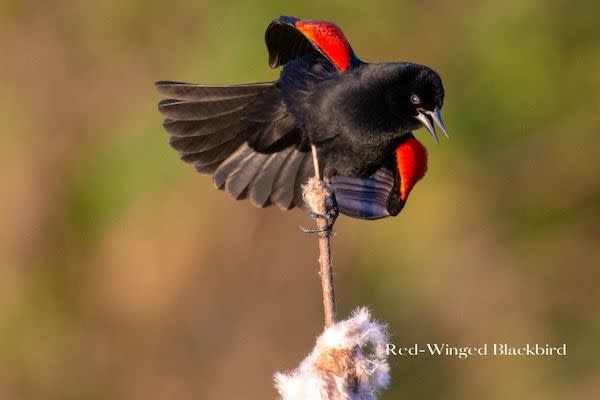 Look for red-winged blackbirds at Schultz Park.
The Greenway Trail
The Clyde F. Boyles Greenway Trail head starts at Schultz Park and winds through residential neighborhoods, Perkins Creek Nature Preserve, three city parks, the McCracken County trail system and the riverfront. The five-mile trail is open to non-motorized traffic from dawn to dusk. Do a little or do a lot! There are distance markers, shelters, and benches located along the trail. No matter where you start, you will see a variety of birds and critters along your way.
Here you can expect paved walking trails, handicap-accessible areas, and benches located along the route.
Look For:
Eastern Towhees
Song Sparrows
Carolina Wrens
Tufted Titmice
Carolina Chickadees
Downy Woodpeckers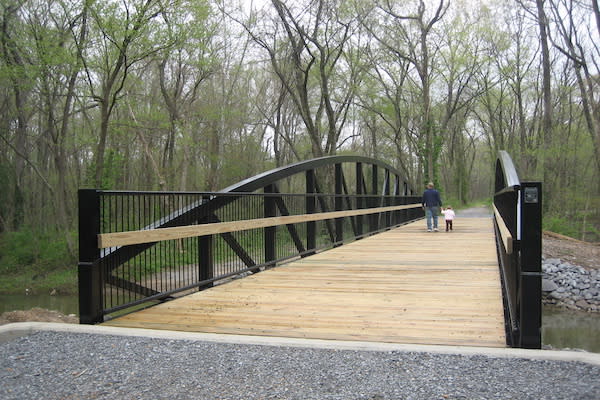 Take a walk along the Greenway Trail to spot a variety of birds soaring through the trees.
Drive-By Birding
If you prefer the warmth of your car for winter birding, take a slow drive from the riverfront through Schultz Park and the floodwall to the Paducah-McCracken County Convention Center complex. Drive around to the back of the facility and follow the fence line where you're likely to see birds flitting around the brushes and scrub on the river side of the fence.
Look For:
Mourning Doves
Rock Pigeons
White-crowned Sparrows
American Goldfinches
Over two dozen city parks and facilities offer a great selection of walking and driving trails where you can spot a variety of species in Paducah. Check out the other parks, grab your binoculars, and do some birding during your visit!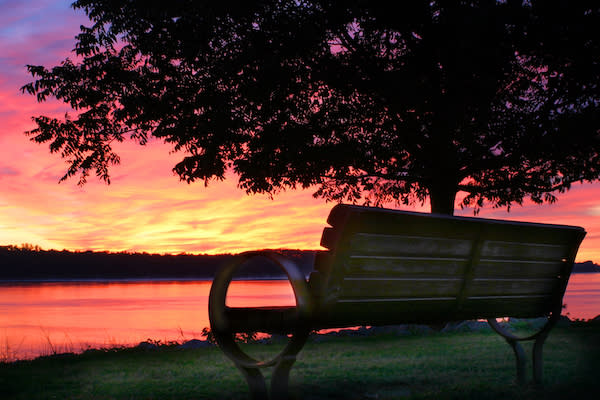 Finish out your day with the perfect sunset view on the riverfront.
For a more complete list of common birds in the area and a checklist of what you might see, check out the Clarks River National Wildlife Refuge birding checklist.