No trip to Paducah, Kentucky is complete without a taste of barbecue. Be inspired by this guide to local BBQ restaurants, each featuring mouthwatering meats, savory sauces and storied traditions!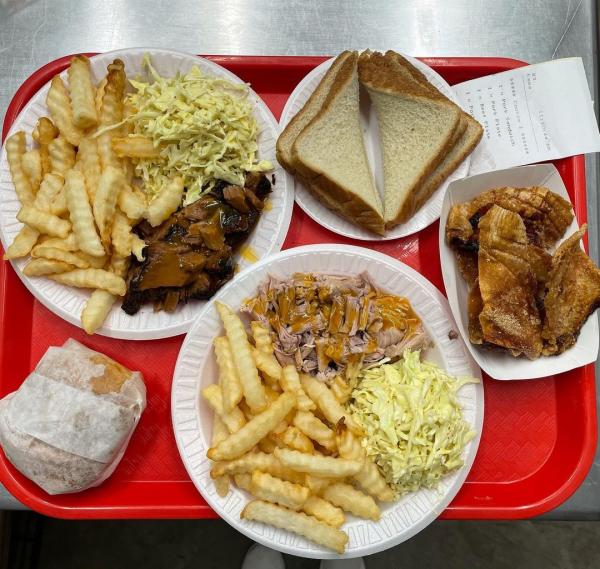 Paducah celebrates barbecue year-round at restaurants and events! | Knoth's Bar-B-Que
Barbecue Traditions in Paducah
When you tell friends you visited Paducah, don't be surprised if they ask where you ate barbecue. As in many Southern cities, barbecue has been an artform and a cornerstone of local flavor for generations here.
Paducah's unique brand of western Kentucky 'que is typified by technique — smoked low and slow — and topped with sauces ranging from savory to sweet. There are several local barbecue joints and shops and a whole festival, Barbecue on the River, dedicated to celebrating this authentic tradition.
Barbecue Restaurants in Paducah
Allow the unmistakable aroma of hickory smoked meats to draw you in for award-winning flavor and Southern hospitality!
• BACKWOOD'S BARBECUE: Backwood's beckons for quick service barbecue meals near Kentucky Oaks Mall. Fan favorite fall-off-the-bone ribs are served with homemade sides like beans, cole slaw and hashbrown casserole followed by pie for dessert.
• BANDANA'S BAR-B-Q: Southern Style barbecue seasoned with a dry rub and hand-cut to order straight from the smoker. Family feasts, combo platters served with garlic bread and shareable sides, are stars of the menu at this regional chain, located just off I-24 at Exit 4 in Paducah.
• BIG ED'S: This homestyle buffet restaurant began as a small drive-thru eatery led by Ed White, a long-time member of Paducah's hospitality community. Today, he presents a dine-in menu and buffet featuring a range of soul food and Southern flavors, from smoked meats to fried chicken and seafood. Barbecue lovers must try the award-winning ribs and chicken.
• HARNED'S DRIVE-IN: A classic drive-in built on family legacy and Southern barbecue traditions. Harned's menu features the old-fashioned pork shoulder sandwich. Nearly as popular as the barbecue, try the famous chili cheese Paducah dog and sandwiches like the chuckwagon and hoagie. Enjoy carhop service or seating in the dining room.
• KNOTH'S BAR-B-QUE: A beloved western Kentucky tradition, this Lake City favorite recently expanded with a second location in downtown Paducah. Knoth's is well-known across the Lakes region and beyond for hickory smoked meats served with mustard based slaw and crinkle cut fries in lieu of beans. Casual dining indoor and outdoors, family packs to go or Dry Ground Brewing Company beer on tap.
• KOUNTRY KASTLE: What started as a "hole in the wall" barbecue joint has now been in business for the better part of a century. In business for the better part of a century, Kountry Kastle started as a hole in the wall barbecue joint. Now features table service and a menu that goes far beyond the barbecue pork and mutton with dozens of menu items.
• STARNES BAR-B-Q: Housed in a mint green cinderblock building, the signature sandwich and sauce are the stars at this lunch-only joint. Smoked pork, turkey and ham is served sandwiched between toasted white bread and topped with spicy sauce. Grab a stool and an RC cola at the counter or pack a picnic to nearby Noble Park.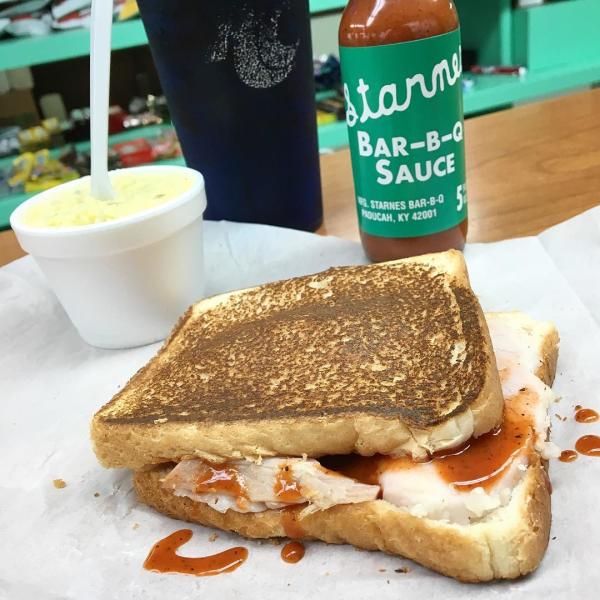 Starnes Bar-B-Q is one of many local spots for barbecue lovers. | @chuckeatsthis
Barbecue Stores & Classes in Paducah
Take a break between barbecue eateries to shop local  stores specializing in the art and craft of barbecue. Pick up favorite locally made barbecue sauces along with tools and supplies to help you prepare, serve and enjoy barbecuing at home.
• BBQ & MORE, the headquarters of Paducah's Barbecue on the River festival, celebrates 'que 365 days a year through this retail presence. The "unique boutique" is known for its expansive selection of gifts, housewares, grilling tools and gourmet food items and outstanding customer service.
• KENTUCKY BBQ SUPPLY COMPANY specializes in smokers, grills and outdoor cooking supplies including seasonings, sauces and accessories. Offering expert instruction on grilling from brisket and ribs to pizza and steaks, their class schedule is perfect for beginners and seasoned barbecue enthusiasts alike.
---
How do you enjoy 'que in #PaducahCreativeCity? Share your favorite local BBQ experiences!