Paducah's designation as a UNESCO Creative City has opened doors throughout the world for Paducah artists. In fall of 2021, fiber artist and Yeiser Art Center Executive Director Lexie Millikan traveled to sister city, Jinju, South Korea, to participate in a Contemporary Craft Biennale. Read as Lexie tells about her life-changing experience, made possible by Paducah's rich connections through the UNESCO Creative Cities Network.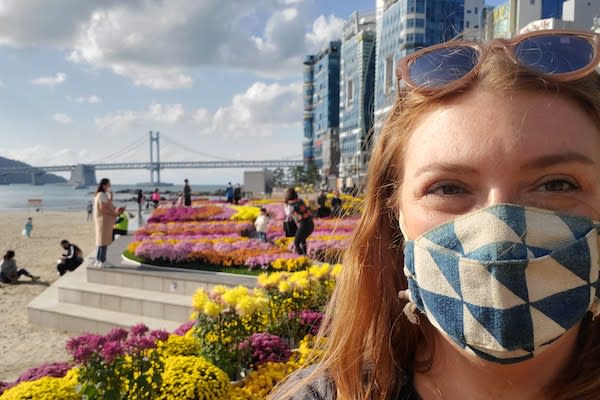 Millikan in Busan, South Korea
It's nearly impossible to sum up my whirlwind trip to South Korea last fall because needless to say, it was incredible! In August of 2021 I was invited to exhibit artwork at and attend the "Law of Contemporary Craft" Biennale exhibition in Jinju, South Korea. Like Paducah, Jinju is a UNESCO Creative City of Craft and Folk Art, which fostered the relationship for my invitation. So three short months later, I carefully rolled up a few of my textile works, and flew to the mid-sized city in the Gyeongsang Province in southeastern Korea. From Kentucky to Nashville to Detroit to Seoul, I arrived after a full day and night of travel, including my longest flight of 14 hours. I adjusted my watch (Korea is 15 hours ahead of Kentucky), ran the gauntlet of customs and Covid checkpoints, exchanged some cash for South Korean won, and finally located my driver for the four hour drive to Jinju. The taxi was incredibly comfortable after my long journey and I hate to admit that I spent my first few hours in Korea sound asleep.
When I opened my eyes and was surrounded by the lights of Jinju, I thought I might be dreaming. I checked into the Golden Tulip, which is situated in the bustling downtown and overlooks the Namgang River, and settled into my required 24-hour quarantine. As I awaited the results of my post-flight Covid test, my hosts kept me well fed with multiple food deliveries to my hotel room door. I first feasted on a traditional Korean breakfast, then bibimbap, soup with fish cake, lots of kimchi, and sesame donuts. Aside from eating, I passed my quarantine time by sitting on my hotel room patio, watching the street below. My view included a busy hardware store and repair shop, many coffee shops and restaurants, rooftop terraces which held onggi pots for kimchi, and the beautiful nearby river. I was anxious to explore my new surroundings but I had strict instructions to stay in my room until given the all clear so I found entertainment watching Korean television programs and working on hand stitching a small quilt I brought along.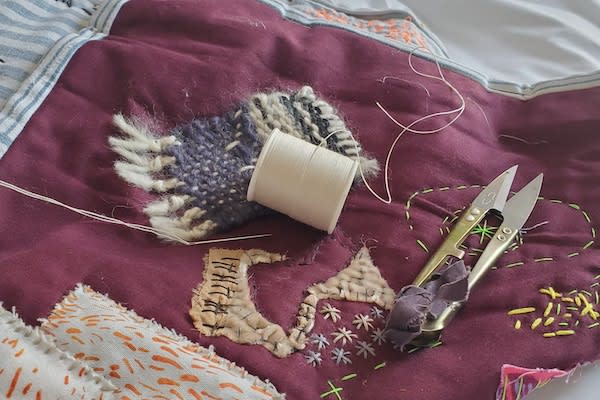 One of Millikan's fiber art pieces in progress during her mandatory quarantine.
Once I was granted freedom, I immediately hit the streets to get my bearings in my new neighborhood. I was delighted to find a traditional open air market just a few blocks from the hotel. There were halmoni (grandmother) selling fresh fish and dried squid, jujubes, spices, and massive sheets of seaweed. Around every corner was a different food vendor with kimchi dumplings, fish shaped cakes, skewered octopus, and countless other goodies. The sights, sounds, and smells of the market were exhilarating and overwhelming all at once.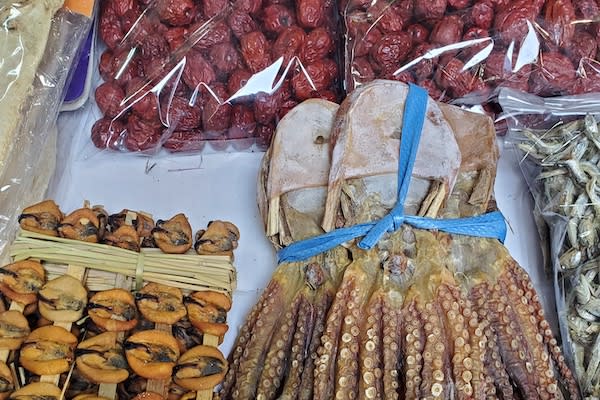 Dried foods at a traditional Korean open-air market
I had limited time to explore because I needed to get ready for the Biennale opening ceremonies that evening where I was finally able to meet the other artists and arts administrators that were involved in the exhibition. Fernando from Italy, Sornchat "Pookkie" from Thailand, Maria from Estonia, Kalin from Bulgaria, and Pascal from Benin all quickly became new friends. We were ushered through the Gyeongnam Culture & Art Center where we were introduced to the Mayor of Jinju, the festival director, and many other local figures. There was a beautiful ceremony in an outdoor amphitheater that included traditional Korean songs and music. The gravity of the occasion set in at that moment and brought tears to my eyes. My artwork was hanging in this beautiful space amongst some of the most talented artists and craftspeople from Korea and around the world. And I was here with it!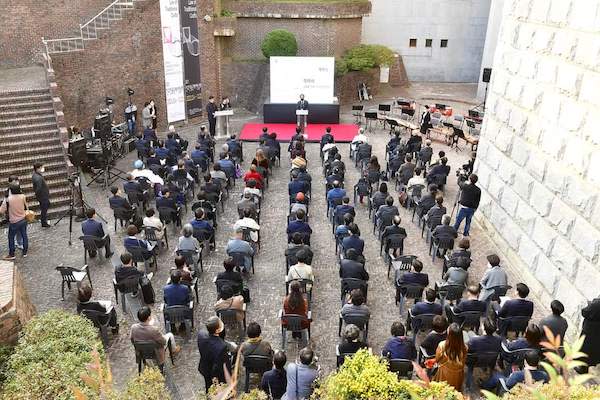 Biennale opening ceremony
The next few days included many adventures like a day trip to Daegu for a contemporary art fair, a self-guided bus trip to Busan to meet up with an American friend, presentations of traditional dance and other cultural treasures, walks through parks and beaches, gallery visits to see fine craft exhibitions, a hanbok festival, and an almost embarrassing wealth of delicious meals.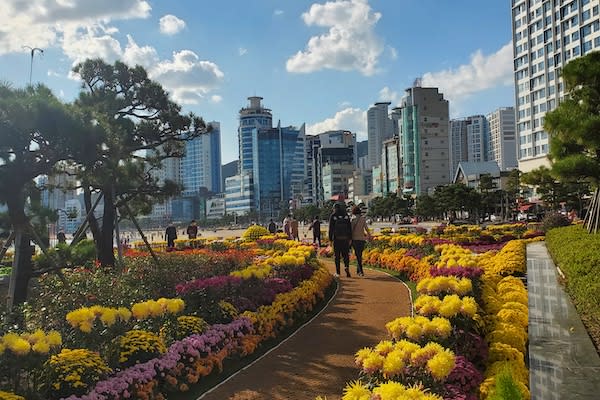 An outdoor walk in Busan, South Korea
For me, one of the joys of life is trying new food, especially when in a new place in the world. I ate raw crabs marinated in their shells in Busan, the most perfect dumpling in Daegu, and traditional cold Korean noodles and savory pancakes in Jinju. A favorite part of these meals was the communal aspect of sharing the banchan or small side dishes that are automatically included. Meehee Kim, the exhibition curator, was our guide for most of these meals and she pulled out all the stops. We were treated to traditional Korean barbecue, Chinese soup dumplings, sushi, and lots of coffee. There were obligatory stops at the local convenience stores for corn flavored candy, corn ice cream, shoju, and honey chips. Of all these tasty meals two of my favorite things were part of a lunch in Daegu: tiny crunchy perfectly seasoned crabs and a sweet purple pancake that was perfectly crispy on the outside and fluffy on the inside.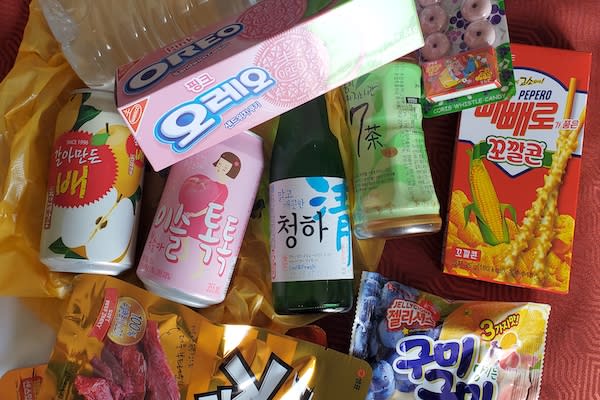 South Korean snacks, including corn-flavored candy
Besides eating my way through Korea, part of my official duties included serving on an artist round table panel with fellow international artists, Fernando & Pookkie who are from Italy and Thailand respectively. The panel was led by the festival director, the esteemed Professor Jeong, who was a jovial and attentive host. Our discussion was about the idea of the inherent "laws" associated with craft in our countries. There was a small audience who asked us questions through an interpreter. I was beyond honored to sit on this panel, discuss my artwork, and learn about the traditions and trends in other countries. I felt very aware of my "American-ness" in my answers about "freedom of expression" and the artist or craftsperson taking liberties with traditional craft and "making it their own."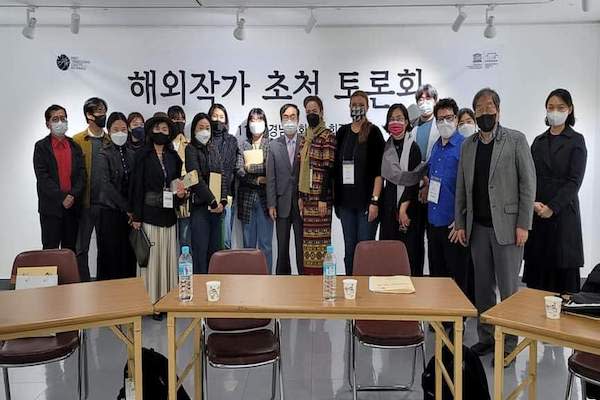 Millikan, right of center, with other panel participants
If I had to sum up this experience, I would do it by describing one of my favorite moments of the trip. There were many of us sitting around a table at a bar, drinking craft beer and eating popcorn. We were from Korea, Italy, Thailand, Estonia, Benin, Bulgaria, and the United States. We were artists, professors, performers, craftsmen, and curators. We told stories and laughed with each other. Some of us used language translation apps on our phones in order to better understand. Some didn't and relied on hand gestures, facial expressions, and the translations of others in the group. But it really didn't matter because we were all connected through this beautiful celebration of the arts in Jinju, South Korea. What a delight it is to be part of the UNESCO Creative Cities Network that made this experience possible.
New friends at a local gallery