Paducah's designation as a UNESCO Creative City of Crafts and Folk Art opens opportunities to collaborate with other Creative Cities cities around the globe. Local artists Michael and Victoria Terra traveled to San Cristóbal de las Casas, Mexico, to build connections, install a custom work of art, and teach workshops. Read about their experience in Michael's own words and find out how a piece of Paducah art found its new home in Mexico.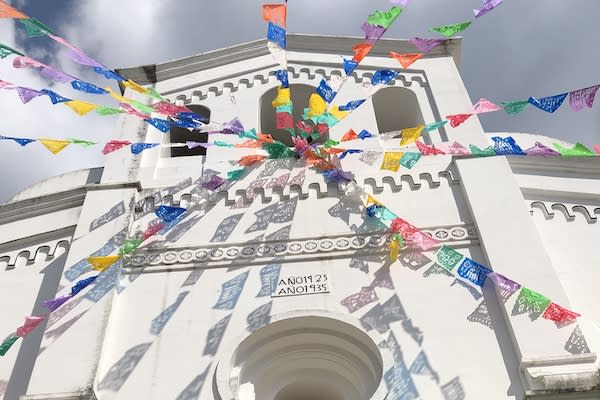 The Terras visited a church in Zinacantán as part of their UNESCO Creative City tour.
Sometimes the world seems as small and comfortable as our kitchen. That translates to warm and cozy, inclusive and surprising, sometimes all at the same time! My partner Victoria and I visited San Cristóbal de las Casas, Mexico as part of a connection through the UNESCO Creative Cities Program. Our 10 days in San Cristóbal de las Casas was welcoming and surprising while, effortlessly it seems, we created new lifelong friends.
Victoria and I were invited by the city through UNESCO to celebrate San Cristóbal de las Casas's 493rd anniversary. The plans included a whole lot: in the course of our time there, we assembled a permanent piece of public art, mounted an exhibit of paintings, and taught five workshops. What did that look like you ask? Well…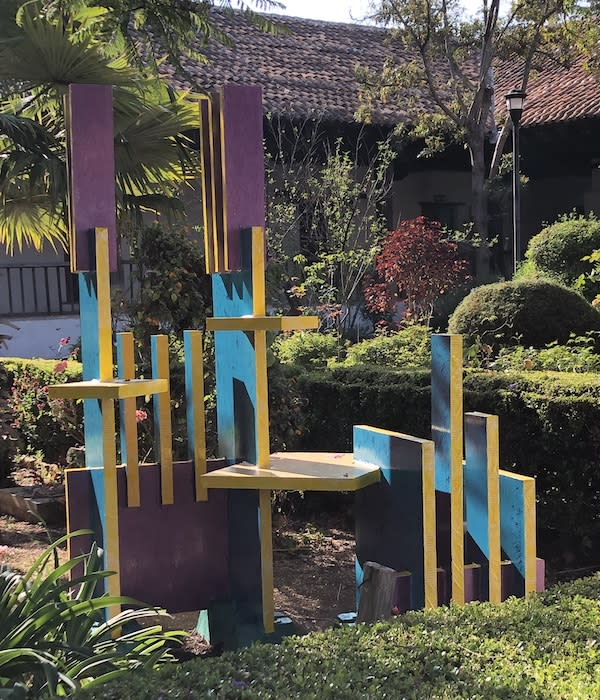 Terra's finished sculpture installed in San Cristóbal de las Casas
Because we own a house in another Mexican city (San Miguel de Allende) we usually drive down each January in our van. This allows us to bring items down with us (usually tools and supplies to work on the house) and on this trip we included an eight-foot-tall steel and foam public art piece (disassembled)! We made arrangements with the folks in San Cris (as it's affectionately known) to come to our house and drive the art piece to its forever home.
Victoria and I flew into the Tuxla airport and got a ride from the plains (about 2,000 feet elevation) up into the mountains and mist (7,300 feet elevation) where San Cristóbal hides. The drive was magical because the highway was closed, so we took the 'old road' through a dozen small towns.
The next morning we were at work! With some borrowed tools and some ingenuity, we cleared and leveled the place that we would put the sculpture. Its home is in the heart of the courtyard that the Carmen Cultural Center surrounds. Having brought everything pre-cut, the sculpture went up in just a few hours. That afternoon, we met with Blanca Ricci, the local artist who was going to paint the sculpture. Working with her was a wonderful collaboration!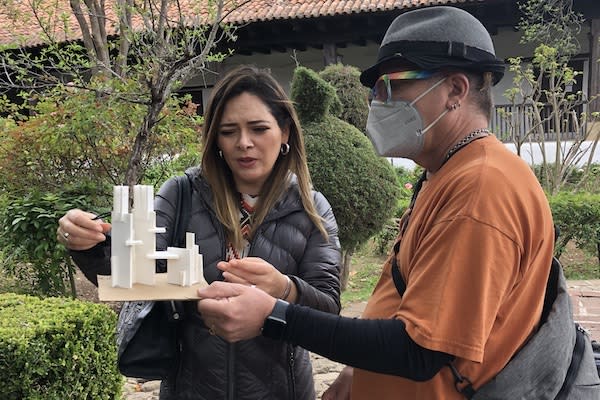 Local artist Blanca Ricci studies a model of Terra's sculpture.
"Blanca, who was the collaborating artist with Michael on his public art sculpture, graciously shared her friends and her life with us. We toured her studio, went on a boat ride through Sumidero Canyon and attended a music concert of three nations: Mexico, Japan, and Tzotzil (the local indigenous people)." --Victoria Terra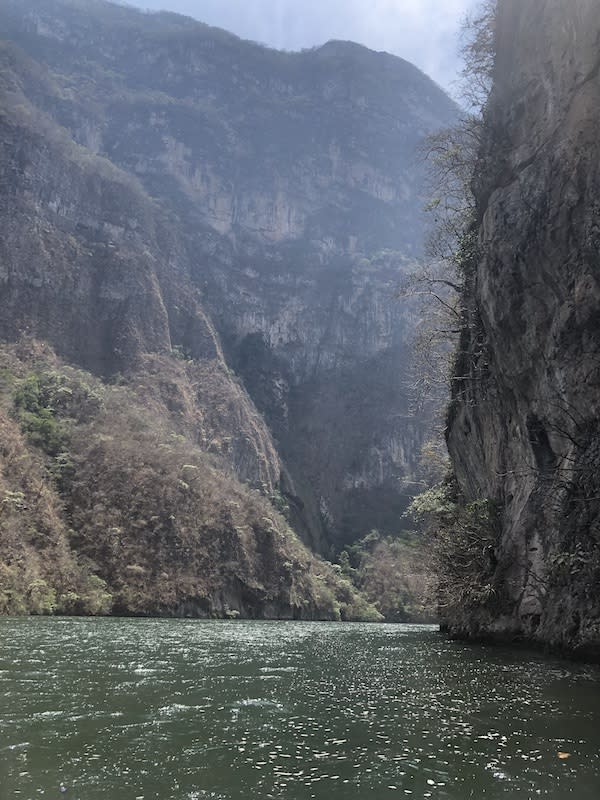 Sumidero Canyon near San Cristóbal de las Casas
The next morning, we hung a collection of eleven three-foot by five-and-a-half foot paintings (brought in a roll on the flight) to hang for an exhibition at the Carmen Cultural Center. There were some logistical snags in doing this but, over the course of a few days of trying different solutions (and watching them fail), we managed to create a successful show. Note to self: double-sided gallery tape does not work on 300-year-old stucco walls.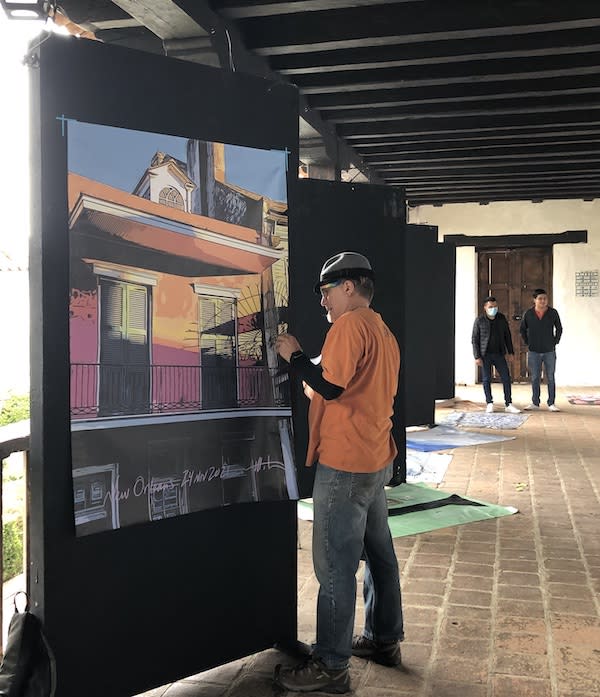 Michael installs his exhibit despite logistical snags.
The last part of our trip included teaching workshops! We taught a workshop at the Cultural Center (a great warm-up for figuring out how to make ourselves understood in Spanish), and then several more in various schools in different parts of the city. Issac, the director of the San Cristóbal de las Casas tourism bureau, set up workshops at a public school, a private academy, and a Catholic school. In every case the kids were super focused, respectful, and so much fun.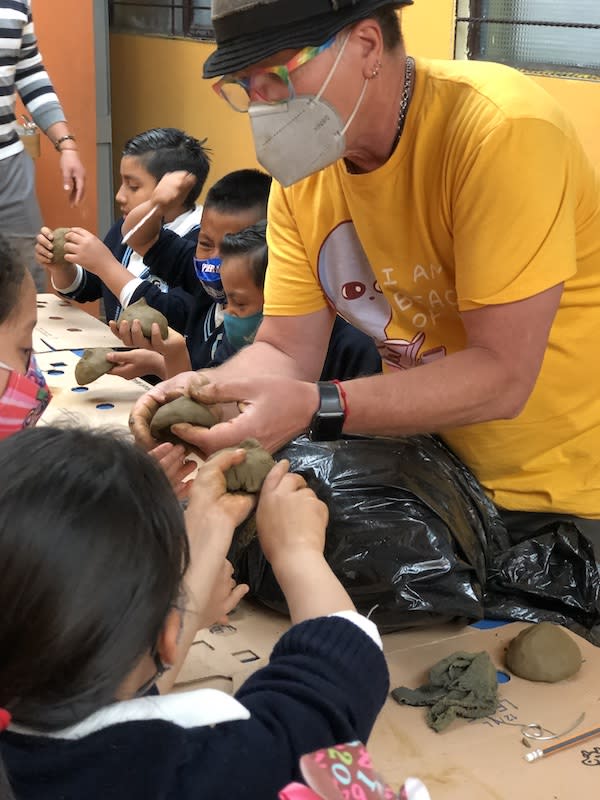 The Terras teach a hands-on children's workshop during their trip.
Because of the city's anniversary celebration, we were included in all sorts of events and were able to meet with the mayor and his team. There was a cultural fair with native foods, indigenous dancers, and crafts. We participated in the dedication of the sculpture and then there was an actual private viewing of the art with a panel discussion that included all the various people who worked on the projects.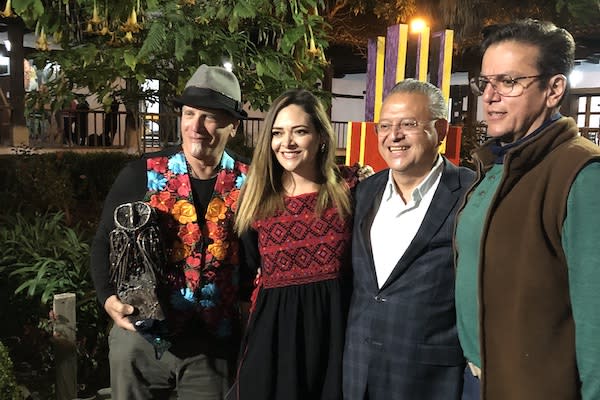 Terra participates in the dedication of his sculpture.
For Victoria and I, the opportunity to participate in a celebration of art and culture in San Cristóbal de las Casas was a great experience. It reminded us that we have so much more in common with others than we do differences, and we can celebrate the differences as we create new things together.
Learn more about Paducah's designation as a UNESCO Creative City.