Now is the time to fall for Paducah, Kentucky as autumn foliage approaches its peak. Be inspired by local history and gardening enthusiast, Dick Holland, to take a leaf-peeping tree tour of our beautiful river city, by car or on foot!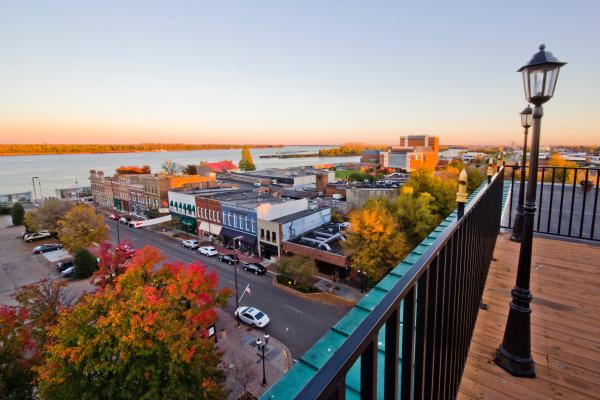 Embark on a tree tour of our beautiful river city this fall! | Photo: Paducah Life Magazine
By Dick Holland
The trees in our town turn incredible colors of reds, yellows and purples that delight visitors and locals each autumn. No need to make long road trips to the mountains of Vermont or Colorado when you can make a much easier trip to see the fall colors of Paducah.
A City of Trees
Paducah has always been a city of trees, and our citizens appreciate and protect our green heritage. These trees are especially colorful in the fall, with peak colors in late October and early November. Oaks, maples, gingkos, sweetgums and hackberries are all bursting with color. Especially beautiful are the dogwood trees. Paducah celebrates our dogwoods in the spring during the annual Dogwood Trail Celebration when the white blooms are highlighted on a Lighted Dogwood Trail and Daytime Historic Trail. In the fall, these dogwoods, with their dark red leaves, are just as beautiful.
The perfect spot to experience Paducah's fall colors is the Jefferson Street-Fountain Avenue Historic District. The entire neighborhood has been listed on the National Register of Historic Places since the early 1980s. The center strips of Jefferson Street and Fountain Avenue were where the town's streetcar lines once ran. After the streetcar lines were removed, this center area was planted with trees and shrubs to become an urban park running through town. Decorating the boulevard is an incredible collection of monuments and historical markers, highlighting the history of our town.
Enjoy architecture, trees and Halloween decor along Jefferson Street. | Photo: Paducah Life Magazine
Enjoy Jefferson Street
The best way to enjoy the Jefferson Street area is to park your car and walk. Begin at the intersection of 14th and Jefferson Streets where the boulevard starts, marked by the statue of Chief Paduke, the legendary figure for whom Paducah is named. From this point, it is an easy walk down Jefferson Street or Fountain Avenue as you pass beautiful historic homes representing all the architectural styles of 20th-Century America. Along the way, you will pass friendly locals walking their dogs or taking an afternoon jog. The cool, crisp fall weather of Paducah is ideal for time outdoors.
Stop for lunch at G & O Pharmacy & Grill, a unique spot located just one block from Jefferson Street on Broadway. This local tradition has been providing lunch for generations of Paducahans. You can sit in a booth or have the fun of sitting at the counter and watch your food being prepared. Enjoy the absolutely delicious cheeseburgers and fries or the fall favorite, the Full House (a bowl of chili and a tamale).
If you continue driving out Jefferson Street, you will be in the West End of Paducah, another beautiful neighborhood filled with period houses and beautiful yards. Ancient oak trees provide a canopy for the entire neighborhood. Look for charming streets with names like "Valley Road," "Sycamore Drive" and "Woodland Drive" to see great homes and huge trees.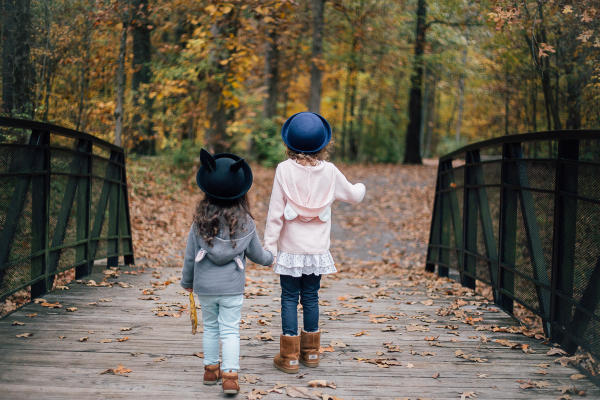 Treasure time together on the Greenway Trail and at Paducah parks. | Photo: Amber Barnett
One of Paducah's Greatest Treasures
Not far from Jefferson Street is one of Paducah's greatest treasures, Noble Park. This municipal park has existed for more than 90 years and, in recent years, millions of dollars have been spent to enhance the park and its features. The entire park is covered with a canopy of oak trees that provide shade and beauty to all the visitors. Enjoy the park with a picnic of barbecue sandwiches and chips from one of Paducah's world-famous barbecue stands, Starnes Bar-B-Q is located just across Highway 60. Be sure to experience the park's newest feature, a Music Garden where kids of all ages can play outdoor instruments and make music.
From Noble Park, connect to Paducah's Greenway Trail, a walking/biking/running path that stretches more than five miles from Downtown Paducah to Midtown and the McCracken County Multi-Use Park. Much of the trail is located on top of the flood levee and, at certain stretches, it provides beautiful views of the Ohio River and the Irvin Cobb Bridge. Other sections of the path cross through deeply wooded areas where lots of wildlife and birds can be encountered. The trail is very popular with locals, families and their pets.
Though Paducah is a wonderful place to visit any time of the year, with its vibrant arts community, diverse restaurants, historic buildings and beautiful natural environment, fall is an especially nice time to visit. Why don't you "fall for Paducah" this year?
---
Show us how you fall for #PaducahCreativeCity! Share photos of fall color and natural beauty on social media using the hashtag.