Known as Quilt City USA, home of the American Quilter's Society (AQS) and a UNESCO Creative City for Crafts & Folk Art, Paducah is a fiber artist's haven. Quilt artist and executive show director of AQS, Bonnie Browning, has curated an itinerary for experiencing all things quilting in Quilt City USA.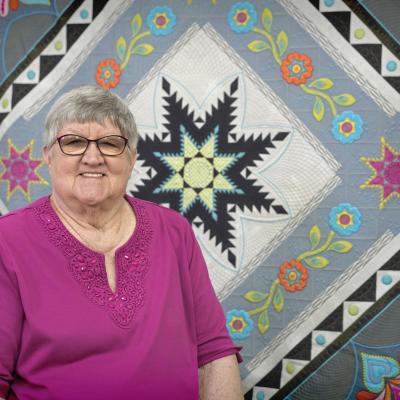 Bonnie Browning, AQS Executive Show Director
Visit The National Quilt Museum
The National Quilt Museum (NQM) is the largest museum in the world dedicated solely to quilts and fiber arts with a permanent collection of over 650 quilts and rotating contemporary quilt exhibitions each year. The NQM is a must-stop on a trip to Paducah to view the best in contemporary fiber arts.
Experience AQS QuiltWeek Paducah
The American Quilter's Society's QuiltWeek is an annual celebration of quilting and fiber art that draws upwards of 30,000 visitors to the town each year – that's more people than the town's population (25,000). As executive show director of AQS, Bonnie says that there is something for everyone during QuiltWeek. Both contest exhibits and special exhibitions are on view, showcasing the best quilts being made in the fiber arts industry, and top instructors flock to Paducah for in-depth workshops and classes. For a broader overview, presenters at the AQS Learning Center teach various quilting techniques and give one-hour lectures. During AQS QuiltWeek, this creative city comes alive to celebrate fiber arts, with many special exhibitions on view at local art galleries and extended hours at local businesses.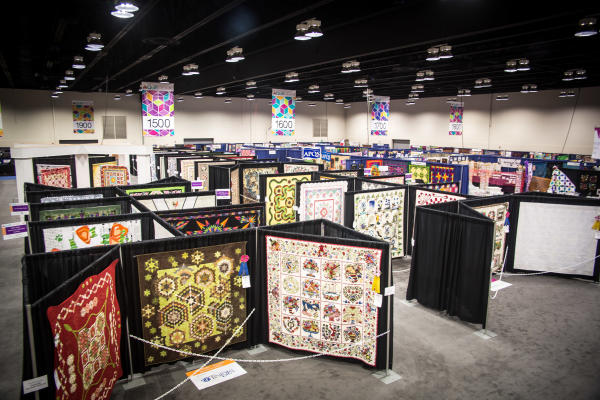 See an array of stunning quilts at AQS QuiltWeek.
Shop Paducah's many local fabric stores
Paducah is home to many locally owned quilt and fabric stores. Hancock's is a fabric warehouse with a huge selection and is the world's largest supplier of quilting fabrics. Muppin's Sewing Emporium is new to Paducah, and Bonnie says that the owner, Cheryl, is an expert in the quilting industry. Tuscan Rose sells an inspiring collection of hand-dyed fabrics and a wide selection of yarn and unique creative materials.

Find inspiration for your next quilt at Hancock's of Paducah.
Take a workshop or art class
Paducah boasts many creative studios offering art classes and workshops of all kinds. MAKE Paducah offers a variety of classes, from studio art lessons and mother-daughter painting classes to photo stamp making and a barn quilt painting class. Better Than Ever features workshops, custom creative events and online videos to feed creativity, and is open for walk-ins to create a craft project. For a more technical workshop, Bonnie also recommends Calico Country Sew & Vac or English's Sew & Vac to learn more about the many features of the complex sewing machines required for making fiber art.
View local fiber art
The Lower Town Arts District, located within Paducah's oldest residential neighborhood and listed on the National Register for Historic Places, is populated with working artists, students and artists-in-residence and is the perfect place to view gallery exhibitions and openings. The Pinecone Gallery is Bonnie's Lower Town recommendation for viewing local art and her go-to stop for Cherrywood hand-dyed fabrics. In historic Downtown Paducah, the Yeiser Art Center also features local artists throughout the year and hosts the international juried exhibit, Fantastic Fibers, each spring. For a driving tour, visitors can follow a scenic route of more than 30 quilt blocks painted on barns and buildings throughout Paducah and McCracken County on the McCracken County Quilt Block Trail.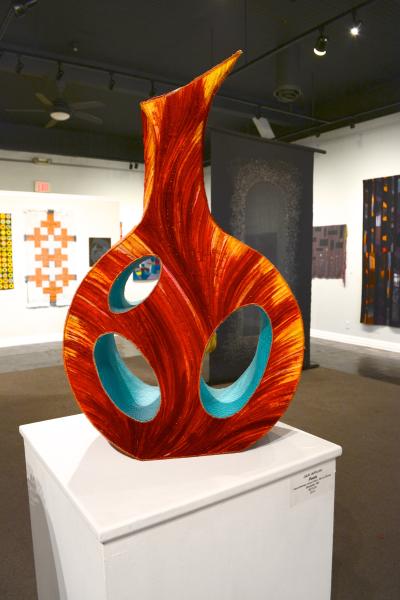 Experience fiber art from around the globe at Yeiser Art Center.