As a UNESCO Creative City, Paducah is home to many innovative artists, studios and galleries. William (Bill) Renzulli, a retired physician and self-taught artist, moved to Paducah in 2002 as a part of the Artist Relocation Program. He now owns his own gallery and studio, Gallery 5, and has curated his best recommendations for experiencing the city's thriving art scene.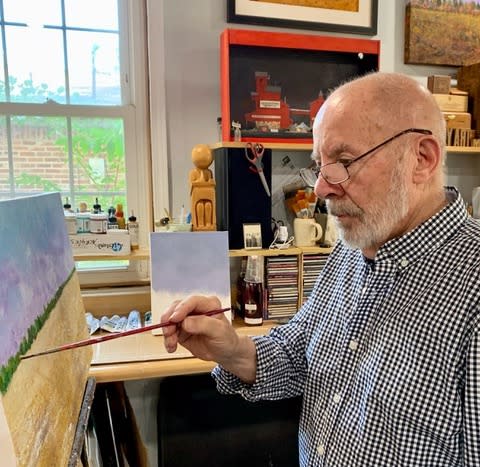 Bill works in his studio in Lower Town.
Learn the history of Paducah
To truly appreciate the art of this creative river city, one should start their journey at the riverfront and stroll along the Paducah Floodwall Murals, that beautifully capture the city's rich history. Painted by the renowned Dafford Muralists, these meticulously maintained paintings can be enjoyed by visitors anytime – day or night.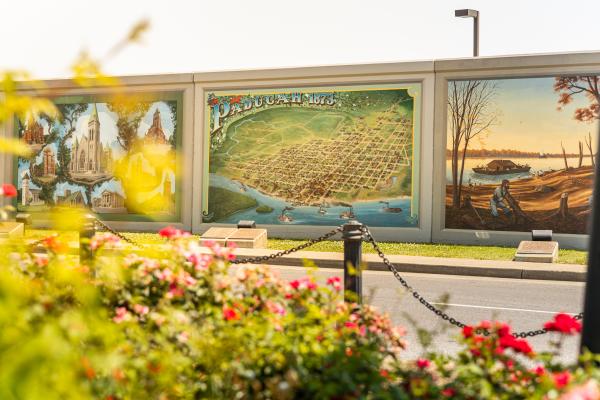 Wall-to-Wall Floodwall Murals tell the history of Paducah.
Visit the PAPA Gallery and Yeiser Art Center
From the river, it is only a moment's walk to the PAPA Gallery, home to the Paducah Area Painters Alliance. In addition to their exhibits, there are usually one or two artists working on their crafts. A few more steps down Broadway will take you to Market Square and the Yeiser Art Center (YAC), a non-profit corporation with 501(c)(3) status, established in 1957 for the purpose of promoting the appreciation and creation of the visual arts. The YAC hosts a variety of curated exhibits featuring regional, national, and international artists in the main gallery as well as local art in the gift shop.

Yeiser Art Center is the oldest non-profit art organization in Paducah.
Be inspired by rotating exhibitions
Located in the heart of Market Square, is the Art Guild of Paducah, exhibiting the work of a dozen or more talented painters and print makers working in a variety of media and styles. Continuing south on Market Square, and crossing Kentucky Avenue, one will find Hotel 1857, a boutique hotel that regularly exhibits the work of selected artists in a series of month-long shows. Head several blocks west, at 621 Broadway, to find artist owned and operated Broadway Custom Framing, where regional art is routinely exhibited.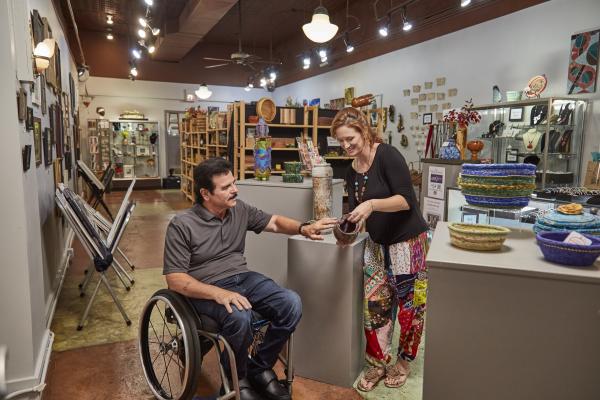 Paducah's Art Guild houses art by dozens of local artists.
Discover the beauty in Lower Town
From downtown it is a short jaunt to the Lower Town arts district and the Etcetera Coffee Shop, where you can view the creations of budding artists while enjoying their fine coffee. When you are feeling refreshed, it's only a short walk to Terra Cottage Ceramics where Michael Terra creates his imaginative art, and Pinecone Gallery featuring the delightful work of artist Char Downs. Our last stop in Lower Town is the Bill Ford Gallery at the  Paducah School of Art and Design.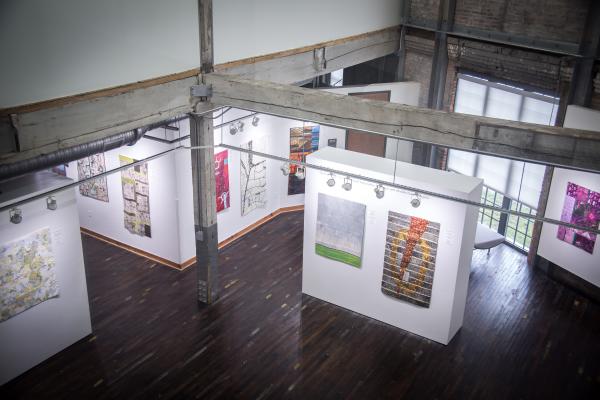 The Paducah School of Art and Design showcases artwork year-round.
Make one last stop in Midtown
Hop in your car and drive to Gallery 600, located at 125 Nahm Stret, in Paducah's Midtown neighborhood. Here you will find contemporary regional art as well as antique prints and paintings.
Cover photo: The Coca Cola Bldg. by Bill Renzulli