Betty Dobson brings the story of Ms. Maggie Steed and Paducah's historic Hotel Metropolitan to life. Betty shares her #PaducahCreativeCity Story and an inspiring introduction to the heritage of the Uppertown neighborhood and the spirit of the Black community in Paducah, Kentucky ahead of the Eighth of August Emancipation Celebration!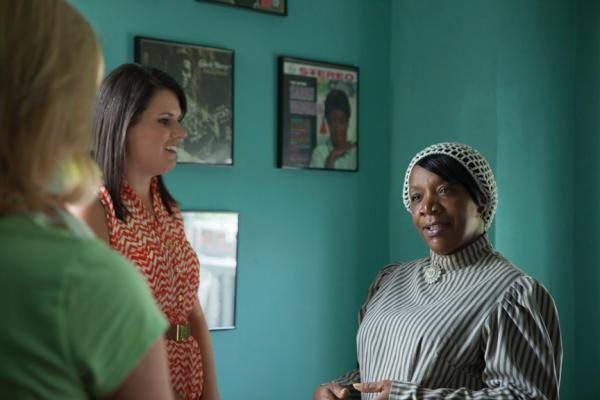 Betty Dobson shares Ms. Maggie's Memories with guests at the Hotel Metropolitan.
Saving the Hotel Metropolitan
When Betty Dobson joined the effort to save the Hotel Metropolitan, she knew this storied landmark in Paducah's Uppertown neighborhood was worth preserving. She grew up in nearby Lyon County with a deep interest in the history of western Kentucky and preserving it for future generations. 
"Being a woman of color, I wanted to know more about the contributions of local African Americans to the world. So for the past twenty years, I have researched Paducah's African-American history – which is amazing – and shared it with visitors through the Hotel Metropolitan."

The Hotel Metropolitan is a landmark in Paducah's Uppertown neighborhood.
Sharing Ms. Maggie's Memories
History comes alive today at the Hotel Metropolitan with the experiential living history tour entitled Ms. Maggie's Memories. In costume and in character as the hotel's fiery founder, Ms. Maggie Steed, Betty welcomes visitors in for an unforgettable experience, one of Paducah's Signature Experiences. She shares memories of a segregated culture and the hotel's world-famous guests along with contributions of Black Paducahans to the world.
"The experience tour is designed to be a thought-provoking and inspirational tour. I portray Maggie who takes visitors back to the days of the Jim Crow era when the hotel first opened. This allows participants to have a glimpse into what life was like for people of color."
The Hotel Metropolitan was built in 1908 by Maggie Steed, an African-American woman, to accommodate people of color. It became a designated stop in the Green Book, a safe haven for African-American travelers, including world-famous entertainers traveling the Chitlin' Circuit like Ella Fitzgerald, Duke Ellington and Ike and Tina Turner.
"I believe it's important to have a living tour guide to bring this history to life. Maggie helps people of all walks of life to understand what people of color had to endure during segregation."
Kentucky Tourism features Hotel Metropolitan among African-American stories that intrigue and inspire.
Preserving Our Past to Better Our Future
Betty encourages first-time visitors to Paducah to be prepared for an interesting, unexpected experience at the Hotel Metropolitan and throughout our creative community.
"The best part of being a local storyteller is sharing and collecting Paducah's African-American stories, to educate and foster goodwill. I'm constantly inspired by the strength, commitment, bravery and love of Paducah's Uppertown community and their determination to make the way better for the youth."
The Hotel Metropolitan has reopened for tours by appointment. Groups may arrange for the Ms. Maggie's Memories tour or pair it with other Paducah Signature Experiences at cultural attractions.
Share your memories of #PaducahCreativeCity and where you uncover more authentic local stories!