Go for a spin through Midtown with a Paducah Ambassador Certified Tour Guide! Allow historically significant points of interest and the newest local experiences to pique your interest in this notable Paducah neighborhood.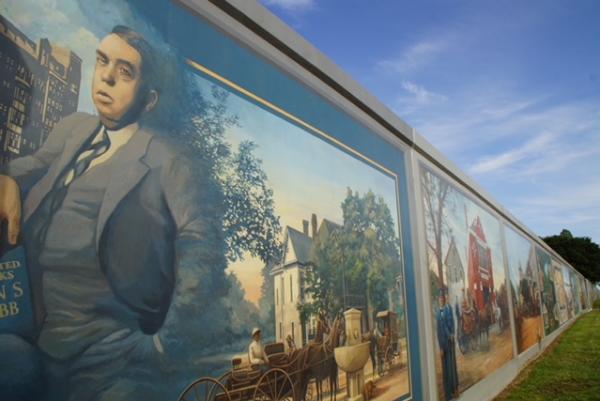 Walk the wall or drive the neighborhoods to uncover Paducah's greatest stories.
By Owen Kim Blaisdell
I am Lincoln born, Lone Star raised and Kentucky aged – like a fine bourbon. I have been a resident of Paducah since 1969. Summer visits prior to moving here were highly anticipated and are now looked back upon with fond memories.
As my grandfather would say, "let's go for a ride!" My brother and I would climb into his 1959 Ford Galaxie 500 and off we'd go to the Paducah riverfront to skip rocks or watch the passing towboats.
Take a Ride from Downtown to Midtown
Today, many tourists are drawn to downtown Paducah not only because of our beloved Ohio River but for attractions that are renowned worldwide. But, there is much more to Paducah than just the downtown. Let's take a ride out to Midtown!
Travel west on Jefferson Street away from downtown. Take your time and enjoy the sights. You will view the Lower Town Arts District on your right and Paducah's skyline to your left. Each of these buildings can be appreciated more as you pass them on your way back downtown or follow the self-guided Historic Paducah Audio Tour.
At 11th and Jefferson, make a stop at Frenchtown Station. This old gas station now offers uniquely curated antiques, yard and home décor along with adjacent Slim's Frenchtown Mercantile, housed in the former Slim's BBQ building.
Continue on Jefferson Street, and you will quickly move into the Jefferson Street-Fountain Avenue residential district. The first streetcar line in this area ran to and from downtown along Jefferson Street. You will see the street lanes separated with a central median that held the streetcar tracks.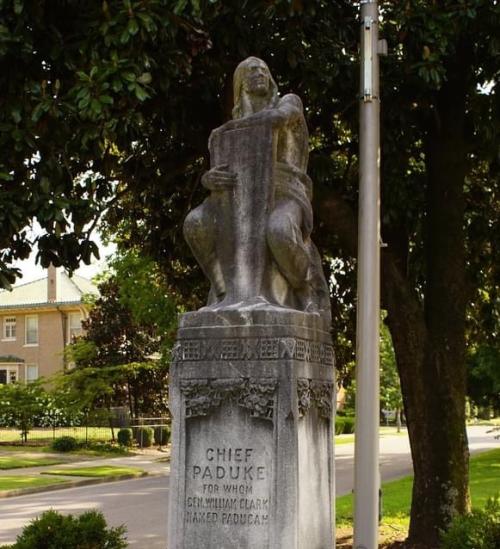 Journey along Jefferson Street to view beautiful homes, monuments and more.
Monuments & Memorials on Jefferson Street
Slow down now and don't hesitate to pull over to view the historic homes and monuments. There are four monuments in this central median beginning with a statue of Paducah's namesake, legendary Chief Paduke, at 19th and Jefferson.
Oscar Turner's Bronze bust and fountain hold down the 2400 block of Jefferson. I'll bet most locals think Oscar Turner is Andrew Carnegie. Why? Because this monument stood for years in front of Paducah's Carnegie Library. The details are inscribed in the stones. 
The Alben Barkley Monument stands on corner of 28th and Jefferson. Each side is engraved with the Paducah native and former U.S. Vice President's profile and prophetic last words. "I would rather be a servant in the house of the Lord than to sit in the seats of the mighty." 
Another block and a half brings you to the 1937 Flood Memorial honoring those who gave aid during the evacuation of Paducah. This location marks the flood water's western edge at the height of the flood, Feb. 2, 1937.
Each of these monuments have more details and stories, but I'll leave those for you to find!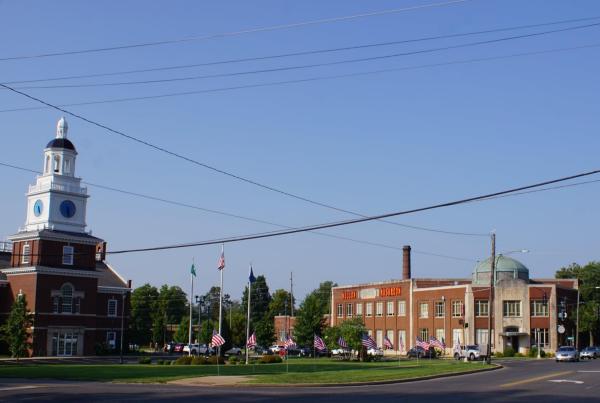 Marvel at Midtown's must-visit sites including The Coke Plant.
Interconnected Local Landmarks
Turn left under the viaduct onto La Belle Avenue to encounter an area of Midtown that has blossomed in the last five years with the revitalization of The Coke Plant.
Following the 1937 Flood, Luther F. Carson built this magnificent structure as a Coca-Cola bottling plant. Within this landmark building today you will find Dry Ground Brewing Company, Pipers Tea and Coffee, Mellow Mushroom pizzeria and more.
Turn left and head back down Broadway. On your right is Midtown Market, a full-service grocery with the best deli in town. You can take your lunch across the street and enjoy the outdoors in Keiler Park.
Continue down Broadway to 28th Street/Joe Clifton Drive. Turn left for a side trip to McCracken County's Carson Park, a prominent fixture of Paducah since 1936 when Luther Carson donated the park to McCracken County. Marked by its covered grandstands and Floral Hall, built in 1882, you'll see horses stabled and trained here year-round.
The fairgrounds and race track have hosted the McCracken County Fair and Antique Gas Engine & Tractor Shows for decades. In 2021, two new events, Touchdown & Tunes Tailgate Party and YACtoberfest, utilized this wonderful green space in the heart of the Midtown neighborhood!
More Things to Do in Midtown Paducah
From Carson Park, continue along 28th Street to BikeWorld, Starnes Bar-B-Q and Bob Noble Park or venture on to nearby points of interest on the Historical Churches of Paducah Tour. Find your way back to Broadway and loop back to downtown, passing many Midtown boutiques, shops and restaurants along the way!
Hey! Let's go for a ride! Continue back to Paducah's riverfront to skip rocks and watch the towboats go by. 
---
Share your photos of #PaducahCreativeCity as you discover the Midtown neighborhood!
Photos submitted by Owen Kim Blaisdell.