Batman has Robin. Quilt Man has Bobbin. Then again, maybe more accurately, Quilt Man has Paducah, Kentucky. Who is Quilt Man? We wanted to know about this colorful character who flies outside of the box and makes an impression upon Paducah visitors. We needed to know. That sparked a conversation with Fowler Black, Paducah Convention & Visitors Bureau sales director and the man behind the elegantly rendered mask.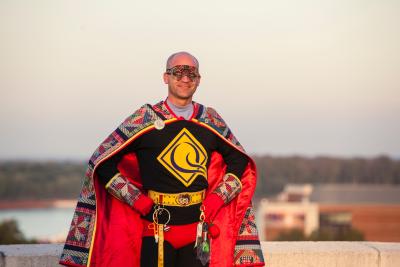 Quilt Man 
 Quilt Man began as a lark. Fowler viewed his CVB job as a channel for sharing his beloved hometown—aka the mecca of quilting, aka "Quilt City"—to the rest of the world; a close friend of his in the tourism industry who saw it as a comical combination of two opposite demographics—a young man and quilting's target audience—dubbed Fowler "Quilt Man," and the name stuck. Soon, the friend wanted to be "Embroidery Boy." When Fowler made Quilt Man a reality, showing up in costume to surprise his friend, he had no idea it would evolve into something more.
What is Quilt Man's purpose?
I might only have one chance to make an impression on a visitor. This is my attempt at making sure a visitor never forgets Paducah—however funny or bizarre it may be. It begs engagement, and people remember engaging experiences. Quilt Man's sense of responsibility and abilities revolve around the visitor experience.
What inspires Quilt Man?
Puns and more puns. Puns are the nutrients on which Quilt Man lives. Perhaps you have to be a quilter to understand some of them. For instance, Batman had Robin, so Quilt Man has Bobbin. It's true. And the story will continue to evolve with next year's unveiling of a female antagonist, Poly Ester. We eventually turn these types of things into poetry, titled Quips from Quilt Man.  
How has the evolution of Quilt Man helped group sales in Paducah?
I hope it helps to establish sense of place for Paducah. People play a large role in place-making—not just its built landscape or heritage. Sometimes these things pay off by creating differentiators that people remember. I guarantee visitors will remember a tour with Quilt Man much more than they would if I showed up in street clothes.
Quilt Man has become a unique piece of the Paducah quilt experience, evolving alongside the quilting product. He's incorporated into the CVB's e-newsletters (Quips from Quilt Man) and as a social media image. The more personal, the better.
I've formed my best client relationships through the Quilt Man persona. I just finished giving two separate tours last week where the operator gave me framed picture of Quilt Man with the kindest of notes on the matting. Another operator wore her Quilt Man earrings on the tour.   
What advice for creating their own identity would you give to other destinations?
Embrace your identity. I've heard through the grapevine that there's a trend where destinations are incorporating mascots. In Paducah's case, Quilt Man wasn't created to be a mascot, but could be labeled as that (or just a bizarre tourism promotion). I think these things can't always be manufactured, especially if the goal is to be authentic. Embracing the niche market you're known for certainly can't be a bad thing.
Quilt Man 101
    The Q on Quilt Man's chest is a portion of the logo of the National Quilt Museum, one of the anchor attractions that make Paducah "Quilt City."
    Quilt Man's power belt has essential tools for the job: pin cushion, rotary cutter, template squares, tape measure, and snippers. (Don't worry; the rotary cutter is bladeless.)
    Quilt Man's mode of transportation is a Segway. Called a Sew Mobile, it makes his cape flap in the wind and allows for the quick exit required of a superhero. (Superman might not consider 15 mph a quick exit, but then his cape wasn't quite so beautifully crafted.)
    And, yes: Batman has Robin, so Quilt Man has Bobbin.
Written by: Kasie Smith is the publisher of Groups Today magazine.
- See more at: http://groupstoday.com/profiles/76-quilt-man-on-making-an-impression-on-visitors#sthash.MZogd1oo.dpuf