Paducah's "Wall to Wall" Floodwall Murals play an inspiring role within Paducah's artistic landscape and the local experience. As the celebration of its 25th anniversary comes to a close, Ro Morse with the Paducah Murals Advisory Board shares her perspective on the past, present and future of this public art project and its evolution from an inventive idea to a top attraction!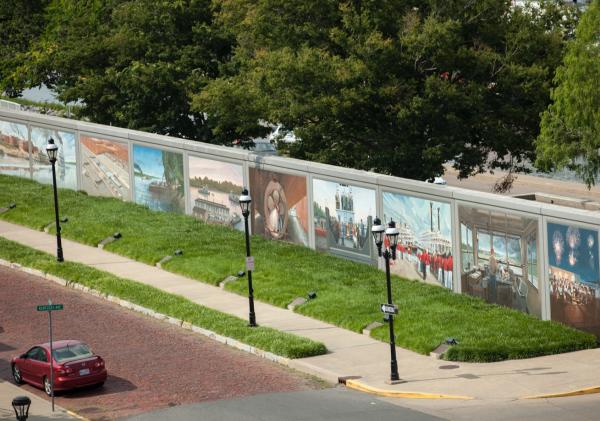 Paducah's floodwall presents an outdoor art gallery meets self-guided history tour.
A New Way to Share Paducah's History
"Seeing Robert Dafford's magnificent work in places like New Orleans and Chemainus and on Portsmouth's floodwall gave our community a vision for sharing Paducah's rich history along our riverfront," says Ro.
A local passionate about Paducah's heritage and hospitality, Ro has been one of the project's biggest cheerleaders since the inception of Paducah "Wall to Wall." From the creation of the original project timeline to researching images and interpretive panels and now ensuring ongoing maintenance, her involvement has helped to make a vision become reality.
"It took 14 years for Robert Dafford and his team to design and paint the 50+ panels on Paducah's floodwall that span historic Water Street. During that time, downtown was undergoing a revitalization, and the murals became a welcoming draw — folks of all ages would stroll these three blocks no matter the time of day or season."

Robert Dafford and the Dafford Murals Team tell Paducah's story in detail.
A Confluence of Creativity & Cultural Heritage
The Paducah "Wall to Wall" project frames Paducah's historic downtown and riverfront by sharing rich history with the public in an artful venue 24/7. An outdoor art gallery meets self-guided history tour, each of the fifty panels presents a distinct portrait from Paducah's past.
"These images are bigger than life. Young and old alike are inspired as they experience Paducah Wall-to-Wall. An appreciation of our heritage evokes sharing of memories and possibilities."
Robert Dafford, a masterful and world-renowned muralist, with Herb Roe and his talented team, depicted these stories in meticulous detail and with a creative touch that continues to foster connection, understanding and engagement. 
"I hope those who walk our wall, read about our past and see how we embrace our heritage through this public art will leave feeling like they know Paducah better and want to experience more of this remarkable place."

Explore Paducah's Dafford Murals and the entire Paducah Mural Art Experience.
Looking Ahead to the Next 25 Years
Ro recognizes the significance of the stories depicted on the floodwall and the importance of passing them on from one generation to the next. She notes that the Paducah Murals Advisory Board is committed to maintaining the integrity of the "Wall to Wall" experience for future generations.
"Robert Dafford told us that his murals would ignite interest in more storytelling and development in the form of new murals and other creative projects throughout the community and region, and that is exactly what has and continues to happen."
Since the project began, Paducah's cultural evolution has continued, leading to designation as one of nine UNESCO Creative Cities in the United States. Historic Downtown and the Paducah Riverfront continue to transform, and murals are now present in neighborhoods and public places across Paducah – as celebrated through the new Paducah Mural Art Experience.
"Our roots matter. When we see our heritage come alive through public art, it tends to inspire us. People sense pride in their community when they better understand their history. The more we see and understand our roots – the struggles as well as the successes – the better we can embrace and create our future."
---
Make the Murals part of your #PaducahCreativeCity story!
Paducah's Dafford murals and accompanying interpretive panels can be explored at all hours along with the entire Paducah Mural Art Experience. Groups can take a deep dive into the floodwall murals through the Art of Creating Community, a walking or step-on guided tour that is one of Paducah's Signature Experiences.