Every river has a story, and Paducah, Kentucky preserves and honors this important heritage as the hub of America's inland waterway system. Preview unexpected elements of river history, science and transportation waiting to be discovered at River Discovery Center with Julie Harris, Executive Director!
From Paducah "Wall to Wall" to River Discovery Center, history unfolds on Water Street.
By Julie Harris, River Discovery Center
I joined the River Discovery Center as Executive Director almost 20 years ago as it was developing into a museum that touches on disciplines of history, science and transportation. Our mission is to stimulate curiosity and understanding of our nation's vital river system through real stories and interactive experiences for people of all ages!
The story of Paducah can't be told without the rivers being the main topic. From Lewis and Clark and Paducah's earliest settlers, the river played a pivotal role in shaping our city's rich cultural heritage. And, today more than ever, the river is a vital part of Paducah's growth and economic strength.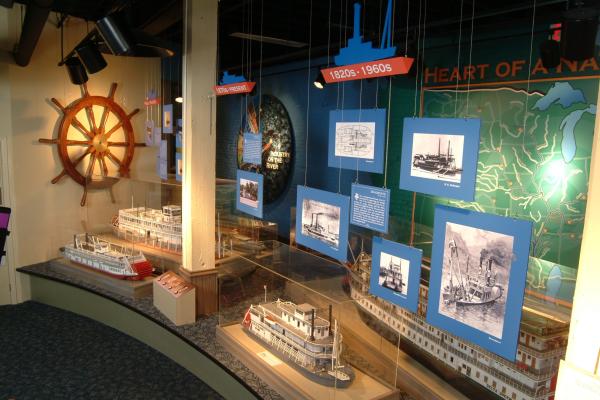 Begin to understand America's rivers, our original highways, at River Discovery Center.
The Story of Our Rivers
The River Discovery Center shares the story of our rivers in an entertaining and engaging way. Preserving this American history creates the foundation for a greater understanding of the significance of this system of rivers that served as our original highways.
One of the first areas showcased is a timeline of all types of river vessels from the earliest dugout canoes to modern day diesel towboats. Inviting the viewer to gain an understanding of this evolution, discover the uses and purposes of each of these boats during its time period. 
Four music stations invite you to listen to music from different eras along our rivers. Included is music from the "roustabouts" – the deckhands of the steamboat era, classics by Stephen Foster like Camptown Races and Oh Susanna and tunes produced by an authentic calliope.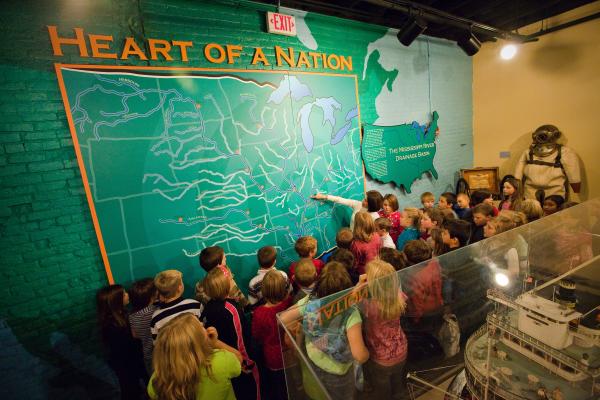 Paducah is located at the heart of our nation and is known as the hub of the inland waterways.
The Hub of the Inland Waterways
Paducah is situated at the confluence of the Ohio and Tennessee Rivers and very close to the Cumberland and Mississippi Rivers. Because of this central location and the number of towing and barge companies based here, Paducah is considered the "hub of the inland waterways," and River Discovery Center focuses on the importance of the river industry to Paducah and our entire nation.
The most popular experience is our state-of-the-art boat simulator in which you can choose to captain a towboat, speedboat or United States Coast Guard vessel through various scenarios in our rivers. Hidden Highways, an interactive graphic, portrays the vast waterway system in the Eastern U.S. and distances between various cities by water. America's system of inland waterways connects cities and allows for efficient transport of commodities across the country. 
The impact of the rivers can be summed up by a large-panel graphic featuring over 62,000 tiny tractor trailers, which is equal to the amount of cargo carried by barges going by Paducah in one 24-hour period. Imagine that! Transporting goods on the river is the most safe, efficient, cost effective and environmentally friendly. This benefits all of us.
The riparian zone is an important element of the natural environment along the rivers.
The Interface Between Land and River
To understand and appreciate our rivers, you cannot underestimate the significance of the natural environment.  The River Discovery Center highlights science because, while the river industry is vital, it cannot exist without the environment.
Our live turtle tank helps to explain the riparian zone which is the interface between land and river.  An interactive exhibit demonstrates how important mussels are to keeping our rivers clean. A healthy river habitat is essential for the survival of many species, including our own, which is why it is so important to protect and conserve the areas that these species occupy.
River Discovery Center also creates opportunities to be ON the river. One of Paducah's favorite events, the Paducah Dragon Boat Festival, will return in September 2021. This exciting event at Paducah's riverfront draws over 25 teams to compete in the 2,500-year-old sport of dragon boat racing.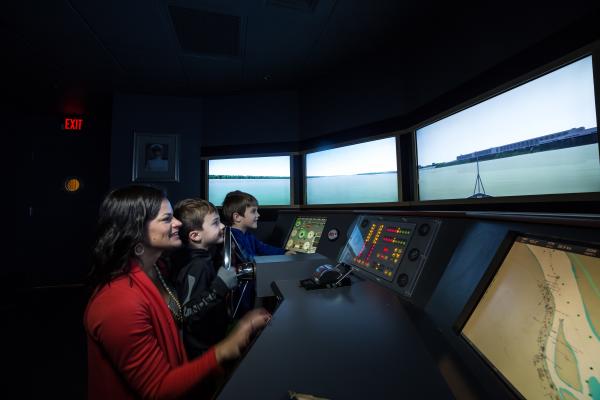 In the museum or on the water, River Discovery Center invites you to connect with our rivers!
To the River and Beyond
I am always touched by the special stories of people's connections to the river whether by working in the river industry or by a memorable experience as a child or as an adult on the river. While in Paducah, I hope you will make your own personal connection to our rivers!
After an entertaining and educational introduction at River Discovery Center, there are many experiences to be had throughout our river city. Tour Historic Downtown for more attractions like the National Quilt Museum, Paducah Railroad Museum, William Clark Market House Museum, Lloyd Tilghman House & Civil War Museum, Hotel Metropolitan and Yeiser Art Center.
A variety of dining options within walking distance of the riverfront include Doe's Eat Place, freight house, Cynthia's, Max's, the new Broussard's Cajun Cuisine and many more. Great nightlife and bar experiences include Barrel and Bond, The FoxBriar and The Johnson Bar. Downtown is also great for unique shopping with Selcouth, BBQ & More, McClaran Manner, Hooper's Outdoor Center or the Wildhair Studios' Rock Shop.
---
River Discovery Center is located on historic Water Street in the oldest building in downtown Paducah, across from Paducah "Wall to Wall" Floodwall Murals. Add this engaging, family-friendly attraction to your itinerary, or plan a special group tour to include Paducah's Rivers - Highway of Heritage, one of Paducah's Signature Experiences!