Inspired by Paducah's creative culture, local artists, entrepreneurs and venues are energizing the destination experience. Reflecting on the first five years of Ephemera Paducah and the fifth anniversary of Paducah's designation as a UNESCO Creative City, Kristin Williams shares her story!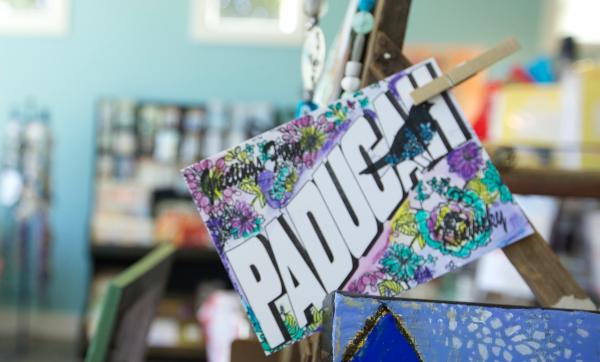 Preview Ephemera's 2020 line-up of workshops with visiting artists and craft a creative getaway!
The Start-up of Ephemera Paducah
"The start-up of Ephemera serendipitously coincided with Paducah's designation as a Creative City five years ago, so I feel a strong kinship with this anniversary," says Kristin Williams, proprietor of Ephemera Paducah.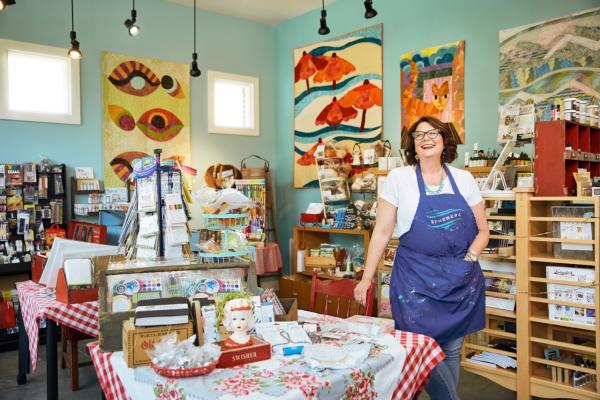 Kristin Williams, featured in 2019 Kentucky Official Visitor's Guide (Photo courtesy of Kentucky Tourism)
A creative at heart and economic development professional by trade, Williams dreamed of opening a shop and studio for years.
"The idea of opening my business began about 15 years ago when I was attending an art retreat in Portland, Oregon, immersing myself in mixed media workshops with 'rockstar' instructors. I was amazed to find so many people like me, professional women who had traveled long distances and taken vacation time to create. A seed was planted that had me ruminating for years about opening a creative business in Paducah."
Before opening the doors to Ephemera, Williams did her research. She met with the Paducah Convention & Visitors Bureau (CVB) team to consider opportunities to draw tourists to Paducah and build upon the new trend of "experiential tourism."
A Place for the Everyday Artist
Today, Ephemera Paducah is a place for the "everyday artist" located in the heart of the Lower Town Arts District adjacent to Paducah School of Art & Design. With Williams at the helm, the mixed media haven has quickly become a national destination for workshops and renowned art instructors, known for superior hospitality and creative experiences.
"On weekends when we host a traveling artist-instructor you'll find 95% of the students live at least 3 hours away and many much farther. In 2017 we hosted 'everyday artists' from 30 states!"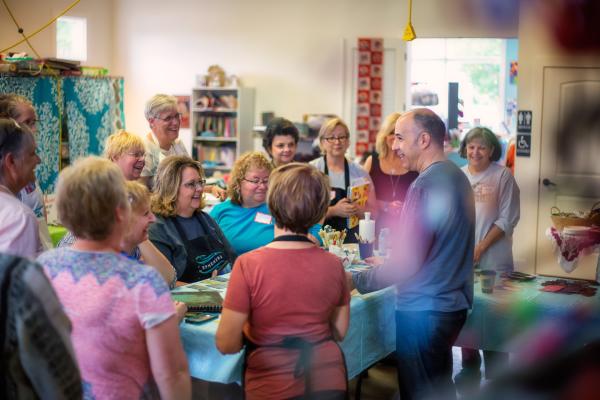 Seth Apter leads a mixed media workshop at Ephemera Paducah
Williams knows her students appreciate the ease of navigating and staying in Paducah. "Local amenities including distance between points-of-interest, ample parking, sidewalks, safety and wide variety of lodging and dining choices make it easy for my folks to focus on what they come for: learning & making art," she explains.
"Paducah's reputation and designation as a Creative City are crucial the success of Ephemera Paducah. My students are excited about visiting and plan time before and after their workshops to soak in the arts, shopping, eating and all that is cool about our Creative City. They've heard and read about Paducah long before signing up for a workshop which helps them make a decision to come here."
Sharing Ephemera & Paducah With the World
Participation in the Creative Cities Network has generated platforms to elevate the vast community of entrepreneurs, cultural organizations and institutions and to share Paducah's creativity with the world from Sabores y Saberes to the Jingdezhen Pottery Workshop to the Small World Film Festival.
UNESCO Creative Cities of Crafts & Folk Art Annual Meeting 2018 in Icheon, South Korea
In May 2018, Williams joined a local delegation to take part in the Icheon Ceramics Festival and UNESCO Creative Cities of Crafts & Folk Art Annual Meeting in Icheon, South Korea. This meeting gathered the same sub-network of global cities which Paducah hosted the year prior.
"Without hesitation I said, 'Yes!' when asked if I'd participate as part of the delegation to Icheon. [While there], I was not surprised, but still impressed, that our community is admired and modeled on the world stage for our innovation, creativity in positioning ourselves, and entrepreneurial approach to the visitor industry."
Solidifying A Place on the Map
Since achieving UNESCO Creative City designation in 2013, the Creative Cities Network has opened new doors to differentiate Paducah and solidify a place on the global map.
"Having spent 25 years in economic development before starting Ephemera Paducah, I still keep a toe in what's going on in that field. What makes communities successful is the ability to retain and attract the labor force needed for new and expanding businesses. Don't underestimate what the CVB does for that equation. One is much more likely to relocate to work in a location that he or she would visit."
The CVB has leveraged the UNESCO designation to tell Paducah's story. In the past five years, editorial features of Paducah have reached more than 1 billion readers around the world! See what others are saying about Paducah in the news.
What's Your #PaducahCreativeCity Story?
Williams was one of eight storytellers from across the Bluegrass State featured in Kentucky Tourism's 2019 Official Visitors Guide. Offering travel tips and stories, Williams narrates an introduction to the arts experiences awaiting travelers in Kentucky.
"It brings me great joy to welcome visitors from all over the United States. My favorite thing to watch (other than happy artists enjoying their class) is seeing our guests fall in love with Paducah. Those who haven't visited Paducah or event Kentucky are always pleasantly surprised at the cool places they find and easy time they have here. It was an honor to be part of this great project, and I am proud that Ephemera Paducah is part of what attracts visitors to our community and state."
Have you participated in a workshop at Ephemera or found inspiration in another local venue? Share your #paducahcreativecity story with us on social media!